I began editing professionally in 2012 as a blog editor. In 2018, I focused on publishing my first and second books. By January 2019, I had contracted as an editor with a New York editing company, where I worked on various projects until opening KMonson Editing Services in August 2020.
My Editing Method
As an editor, I use the Chicago Manual of Style but understand that authors occasionally prefer alternatives to the general guidelines. That's why I follow my client's lead when it comes to controversial guidelines surrounding some punctuation and grammar choices.
Once a manuscript is edited, clients will find regular comments explaining my suggestions; this helps make those final editing choices easier. I don't accept all of my editor's suggestions, and I don't expect my clients to either.
Per the KMonson Editing Contract, I perform two passes on every manuscript before returning it. I also edit rewrites and additions at no additional cost. Questions are always welcome, whether about a suggestion, guideline, or publishing standard.
I offer a complimentary edit on the first 2,500 words. If a manuscript requires fewer edits than average, I will offer one of my discounted rates.
My goal is to help perfect each manuscript without compromising its voice. I value my editor and strive to offer exceptional services so my clients can value theirs.
What I accept
I am proficient at editing fiction, memoirs, and less-technical nonfiction.
I do not accept the following:
Gruesome horror (suspense is fine)
Erotica, including books with one or two sex scenes (off-page is fine)
Sexually-based nudity or explicit description of the "bikini" body parts
Editing and Proofreading for Fiction and Memoirs
All services include the following:
Punctuation
Grammar
Clarity of text
Plotline holes
Section/addition revisits
Consistency checks
Other, as seen fit by editor
Premium edit:
Available for all manuscripts.
$0.01/word 20% off ($0.008/word: a limited-time offer)*
Full edit:
Available for manuscripts with limited grammar, clarity, and flow errors; price is extended after a sample edit.
$0.0085/word 20% off ($0.0068/word: a limited-time offer)*
Proofreading:
Available for professionally copy-edited manuscripts or for manuscripts with minimal typo, punctuation, and grammar errors; price is extended after a sample edit.
$0.007/word 20% off ($0.0056/word: a limited-time offer)*
Editing and Proofreading for Nonfiction
Full Edit:
Available for all less-technical nonfiction texts.
Includes the following services:
Punctuation
Grammar
Clarity of text
Consistency checks
Repeated information grouping/regrouping
Basic formatting (bulleted lists, text boxes, proper citations)
Online reference checks
$0.015/word 20% off ($0.012/word: a limited-time offer)
Proofreading:
Available for professionally copy-edited manuscripts.
Includes the following services:
Punctuation
Grammar
Clarity of text
Formatting checks
$0.01/word 20% off ($0.008/word: a limited-time offer)
Availability
Please contact me via email [email protected] to check availability.
For your convenience, I have included a sample of the KMonson Editing Contract.
*After book one, remaining books in a series will receive a 10% discount.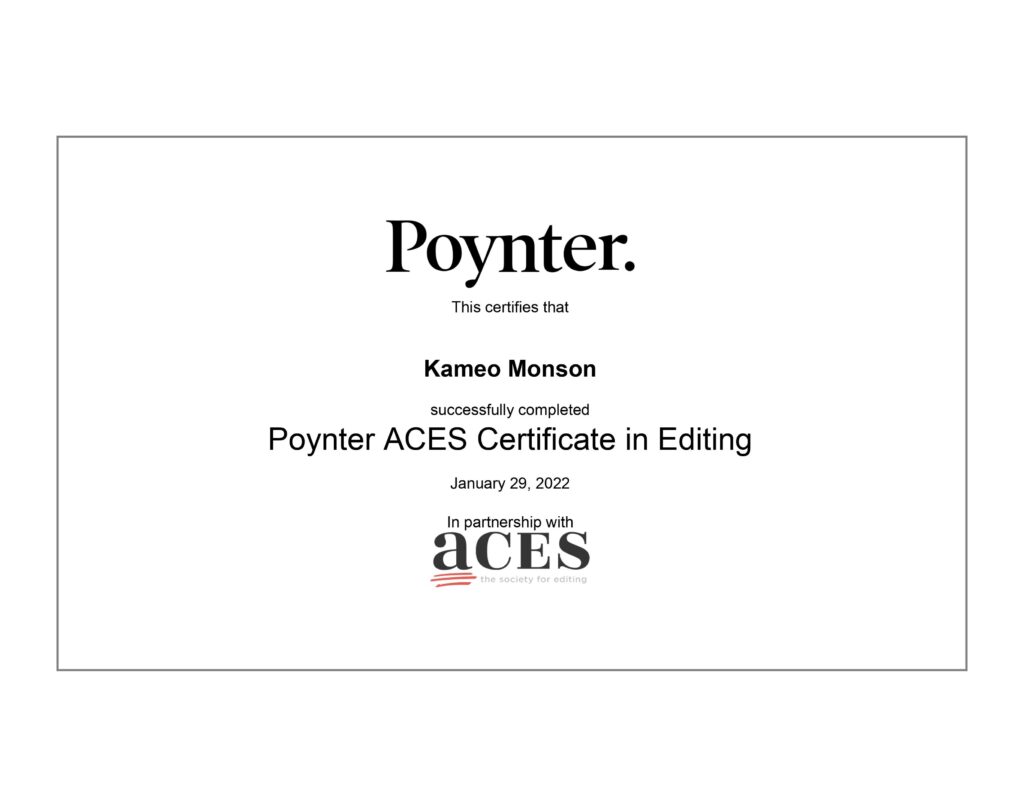 Author Testimonials
A portion of an email sent to Kameo by client Richard Halverson:

You are very good at what you do. I've still got quite a way to go in working through your suggestions … I am impressed with your grasp of what I hope to communicate. I have actually had the chance [to work] with some other professional editors in the past. It has been a lot of years now, but I have had some books and articles dealing with investing published. You are the best editor I have ever worked with.


Kameo did an absolutely amazing job editing my book. Her ideas and insights were invaluable to me in getting the book to publication. Her knowledge of the English language and of all of the idiosyncrasies that go along with making a great novel is second to none. I am incredibly happy to have found her.
G.M. Davis, author
.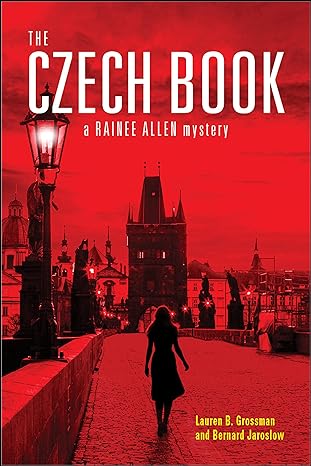 I really enjoyed working with Kameo and felt our styles complemented one another. Her grammatical knowledge and comments were spot on! I feel my manuscript is now ready to publish and am confident it will be well-received.

Thank you, Kameo. I will be calling with my next novel.
Lauren B. Grossman, author
.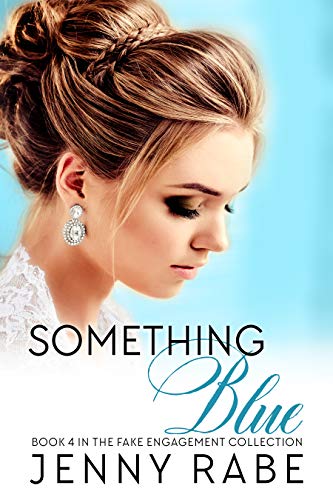 Kameo was a pleasure to work with. On several different occasions, after she edited my book, I had questions, and she was polite, helpful, and willing to help me make it the best-finished copy I could. She worked quickly, but carefully, and was reasonably priced. I will be using her services in the future.
Jenny Rabe, author
.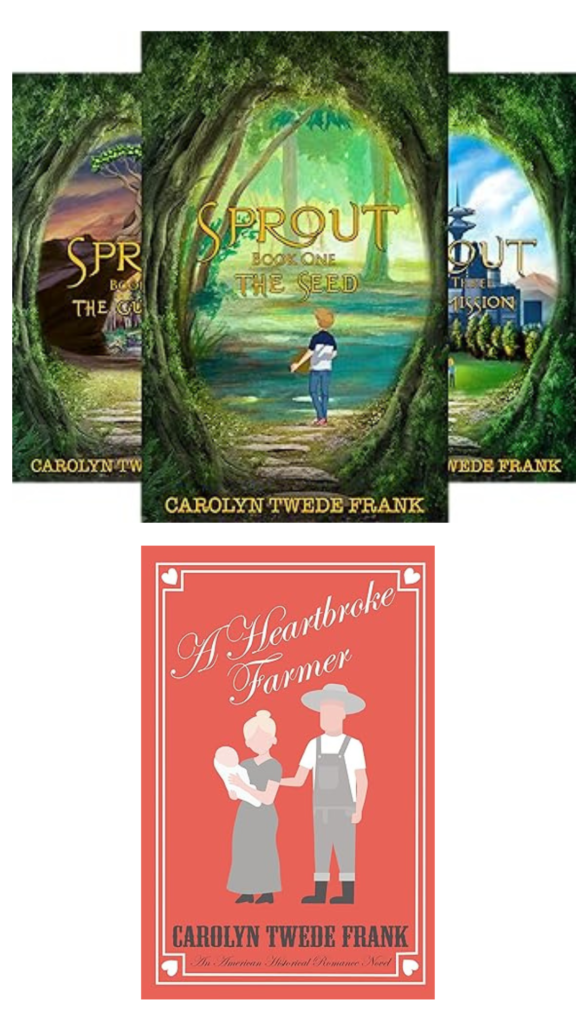 I was referred to Kameo by my friend Jenny Rabe when my previous editor was unavailable. She got to work in a timely manner and delivered my manuscript by the date promised. Not only did I enjoy working with Kameo, but I was pleased with her skills and her professional manner. I really appreciated her willingness to edit my cover blurb that I submitted to her weeks after I'd received my edited manuscript and paid for that service. Her skills with polishing my cover blurb were perfect and priceless.
Carolyn Twede Frank, author
.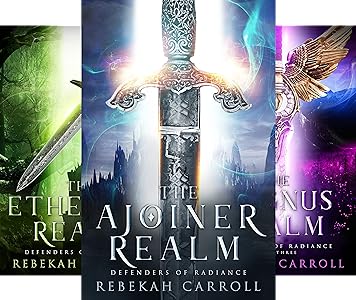 Kameo Monson is FABULOUS as an editor. I've had the great pleasure of working with her twice now, and both times I was extremely impressed and pleased with her work. I love that she comments when she really loves a section of text. The editing process can be degrading for some authors, but Kameo does a wonderful job making sure to build you up as a writer and polish your story as an author. Her editing style is FANTASTIC as well.
I've never felt stupid when reading her edits (and let me tell you, I've made some really silly mistakes). All of her comments are very professional and kind. She's incredibly FLEXIBLE with the needs of the author and does her absolute best to help them succeed. Also, she 100% knows her stuff. She helped correct some mixed-tense issues with my manuscript. I'd mixed up some British and American English rules, and she totally caught them before print! I cannot recommend her enough. She's exactly what any author would want in an editor. Skilled and fair. Talented and kind. Flexible and determined. LOVE, love, love working with her! I would seriously be depressed if I wasn't able to work with her. She is absolutely ONE OF A KIND!

Rebekah Carroll, author of the Defenders of Radiance series.
.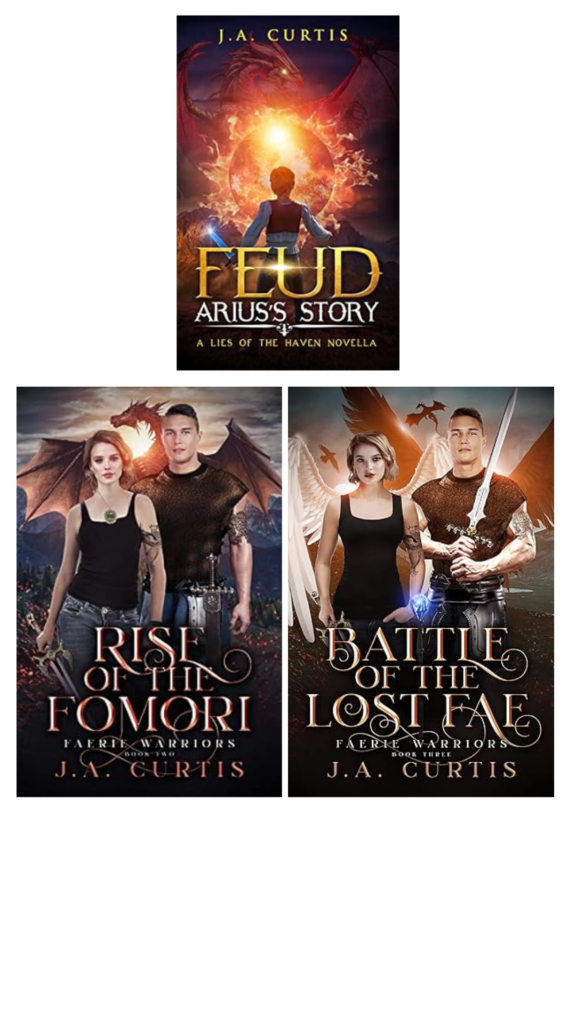 Kameo did a fantastic job editing my novella! I appreciated her suggestions and her comments. Her suggestions spanned from basic grammar to word choice to flow and clarity. She was very thorough, and I could tell she knew her stuff! Her communication was quick, and she was willing to help with questions and rewrites even after the project was complete! I definitely recommend her!
J.A. Curtis, author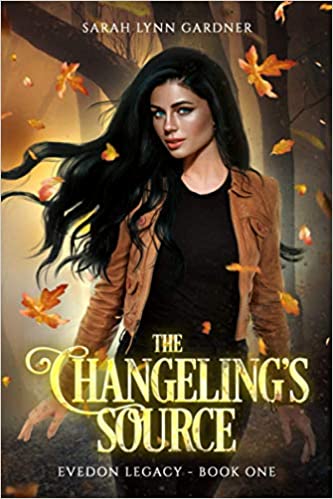 Kameo was amazing to work with. She was on time with deadlines and prompt to answer back any questions I had. She was meticulous with her edits and gave great constructive feedback. She definitely has an amazing grasp on grammar and punctuation as well as knowing the difference between essential changes and optional ones. I really appreciated the time she took to explain some of her suggestions, how she gave alternate word options, as well as left comments showing her engagement with the story. Overall, an incredibly positive experience. My book definitely feels more complete having had her eyes on it!
Sarah Lynn Gardner, author
.
A writer friend recommended Kameo to me.
After Kameo sample-edited a few chapters, I decided to work with her as well. It was the best decision I could have made. I wrote a personal development book (my first to publish), and I needed to put the right foot forward and into the published writers' world.
Kameo put a lot of heart into her work and walked the extra mile for me, which feels very supportive and loving. It's crucial to work with a skilled and experienced editor who is also a remarkable human being and cares about your work as much as her own. She kept my author's voice throughout my writing and improved my manuscript so much. And not only in terms of grammar accuracy and punctuation. She offered synonyms and extra versions for some phrases that lacked clarity, caught some other types of errors, and made my writing smooth, increasing its readability.
I highly recommend Kameo, and I'm looking forward to working with her again in the future! A five-star editor.
Edina Birea, author of How to Be as Confident as a Stage Performer
.