Book Review: Diving for Love by Jenny Rabe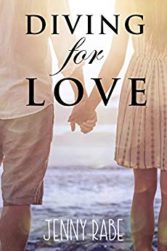 What do you do when you realize you've fallen in love with your best friend and he's dating the girl that's tormented you all year? Mariana set out to fulfill a new goal: forget about it. See how it all works out in Diving for Love by Jenny Rabe.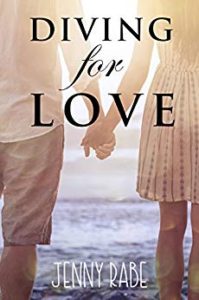 Jenny Rabe, a wonderful YA author and one of my favorite online personas, went on more than 150 dates before settling down with her husband and having soon-to-be four children. Certainly, this plays a part in her romance-writing abilities, which she demonstrates clearly in Diving for Love. This story may be for young adult readers, but ladies, you are bound to enjoy it, too.
My Thoughts:
Who of us hasn't enjoyed the tingle of young love? I'm all for the rich and fulfilling love twenty-three years of marriage has provided me, but remembering the feelings of teenage love still puts a smile on my face. And though Disney stories are fun, my favorite young love stories include characters who don't experience love at first sight.
Diving for Love starts with the classic story of a girl who falls in love with her best friend. When events turn against Mariana, due to the thick blinders Dennis wears when it comes to his mean girlfriend, she sets goals to forget the whole crush idea, focus on earning money for college, and to take care of Abuela. Having the new employee, Sam, diving with her at the snuba shop seems to help, especially when he shows interest in her.
The situations Mariana finds herself in float readers through a fictional reality that I quite enjoyed. Her love for Abuela and confusion over Dennis and Sam don't come across as contrived, but as the emotions everyone feels at one point or another. I found myself laughing with and talking to the characters as if they could hear me, as well as worrying about what might happen next. The author's casted ripples of mystery that appear throughout the story riveted me. Well-written, filled with plenty of punny humor, and completely clean, every romantic is sure enjoy Diving for Love.
Official Blurb:
Seventeen-year-old Mariana Rodriguez is devastated when her best friend and long-time crush, Dennis, chooses to date her tormentor over her. She plunges into work at her uncle's dive shop, determined to sink her feelings for Dennis. When the new employee, Sam, shows interest in her, Mariana feels like she's found the perfect springboard to moving on.
After both the shop and her abuela's house are vandalized, Mariana can't help but suspect that the two events are connected. She reluctantly calls on the one person who can help her, but allowing Dennis back into her life only makes her feelings for Sam murky. To protect her family from financial ruin, Mariana must decide who to trust. And with any luck, she'll get her chance at true love along the way.
More Info:
Purchase your e-book or print copy of Diving for Love on Amazon.
Follow Jenny Rabe on Facebook   Twitter   Goodreads
Visit Jenny's website and her newsletter.
Receive your free download of Sometimes A Bird Has to Fly, my favorite flash fiction piece by visiting KameoMonson.com, where you can also find more book reviews, recommended reads, flash fiction, and stories about me.
I received a free copy of this book in exchange for this review. All opinions are my own.
Please follow and like us: