Book Review: The Trouble with Fairy Godmothers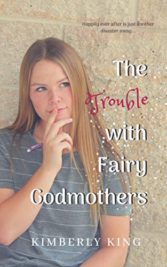 The Trouble with Fairy Godmothers by Kimberly King takes Nikki Baker's desire for her first magical kiss to a whole new level, especially now that sparkles, potions, and magical twists are involved.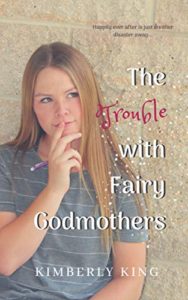 Behind every book stands a creative author, and Kimberly King definitely has the creativity down. The Trouble with Fairy Godmothers introduces you to Nikki Baker, a teenage girl nearing the end of her freshman year. And like so many others, Nikki wants nothing more than to experience her very first kiss. Unlike other teenage girls, she discovers she has a fairy godmother, one who doesn't believe in turning mice into footmen and definitely doesn't like the idea of turning pumpkins into coaches. In this debut novel, readers laugh through confused spells and wacky high school experiences as they easily relate to those embarrassing teenage moments.
My thoughts:
High school filled my life with plenty of fun, choir, sitting with the band during football games, dances, and the occasional date or three. And though I don't often admit it, my teenage mind was wired like most other teenage girls. I wanted that magical experience where a boy's lips suddenly careened into mine for the very first time.
Kimberly King takes those dreams and adds embarrassing moments and humiliation, giving our daughters (and us too) a great deal to laugh at. Though Nikki's fairy godmother doesn't appear in every chapter, we know she's busy behind the scenes, working to get Nikki that very special kiss. Kimberly brings life to her characters, when they smile, I smiled—when humiliation knocks on their doors, I remember it knocking on mine.
I can't wait to share The Trouble with Fairy Godmothers with my daughters, who are the perfect ages to enjoy every minute reading it. Recommending this clean read comes naturally to me as I find it a great book for all middle and high school aged girls.
The Official Blurb:
All Nikki Baker wants is her first kiss. All her fairy godmother wants is to get the job done as quickly as possible. Hilarious adventures follow when Nikki discovers her fairy godmother's magic isn't quite up to par…along with her taste in boys. Nobody is safe as spells bounce around from the school's biggest nerd to the biggest jerk in ninth grade and everyone else in between.
As love triangles grow ridiculously complicated, Nikki soon discovers that being a boy magnet has its downside. One best friend starts hating her, and another stops at nothing to prevent Nikki from getting her happily ever after. Is love really worth the cost of friendship? Nikki must decide for herself, but that means betraying either her best friends…or her impatient fairy godmother.
More info:
Purchase The Trouble with Fairy Godmothers for Kindle or in Print on Amazon, or read it on Kindle Unlimited.
Follow Kimberly King on Facebook
Visit KameoMonson.com for more reviews and other writing fun, and receive your free download of my flash fiction piece Sometimes A Bird Has to Fly.
I received a free copy of this book in exchange for this review. All opinions are my own.
Please follow and like us: