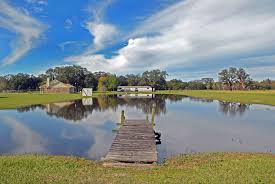 The morning sun touched the top of Rebecca's feet even as the cool of the night coursed through her from the old wooden pier, sending a shiver up her spine. Slowly padding to the end, she stood in her ruffled swimsuit with hugs and kisses splattered across it and glared past the golden glimmers of the pond's surface into the dark enigma below.
Only water, they'd said the day before. Like swimming in a pool.
She narrowed her eyes. "I've drunk water my whole life. Been in a pool too. Water's see-through. Not woodland soup."
The mutter left her lips as she sank to her knees and studied the underneath closer. The murky water wasn't brown. Lots of ponds were. Not here though. Gramps had dug the stream's bank out and planted watercress to slow the flow before it got to the pond. That did something or another.
Stretching her arm out, Rebecca slowly pushed her hand through the glimmering surface. A few inches is all it took before it faded into the unknown.
No, no, no! Nope. Not gonna happen. She yanked her hand out of the water, and wet drops flew to the plank beside her. Jumping to her feet, she scrambled toward the shore, her hands flitting at the ends of her arms as hasty breaths dried her tongue.
"Wasn't easy for me the first time either."
Rebecca searched for the voice, and her face crumpled at the sight of Grammy's comforting smile.
"No reason to cry, doll. Come over here and sit on my thinkin' rock with me."
With a sniff, Rebecca dragged her feet through the dry dirt, watching as it slid between her toes and puffed at her heels until she reached the soft green grass. Slumped on the rock, she leaned into the well-cushioned side of her best friend. "They laughed at me."
"Who did?" Grammy asked. "Those boys?"
"And Lucy."
"Well, those kids grew up here. They've been swimming in ponds since the first time their daddy bounced them on his knee."
Rebecca shrugged. "I know how to swim. But they didn't believe me."
"I know that. Your Mama made sure you could float on your back before you were two. I used to watch you in the tub—floating and giggling. You had the biggest brown eyes and the cutest wide grin."
"I like swimming when I can see my feet." Rebecca shoved her toes deeper into the grass.
Grammy laughed. That is nice, but until you've had a fish nibble at your toe jam, you haven't—"
"Eww, Grammy, that's gross!"
Grammy's eyes widened as she turned to Rebecca. "It sounds gross. But it feels great! First, you have to get the little ones to come over. That's the tricky part."
Rebecca looked out at the pond. The water rippled gently with the breeze, and with the sun climbing higher in the sky, the glimmers winked at her like tiny bright stars.
She wanted to swim in the pond. She really, really did, but anything could be in that water. Jimmy told her he'd found a dead skunk in there—floating and bloated with slimy limp fur. If dead skunks floated on top, what was underneath?
"Did Jimmy really find a dead skunk in the water?"
"That boy! Always telling stories. Critters around here prefer drinking from the stream."
"What about dead people?"
"Dead people? Where? In the pond?" Grammy eyed her suspiciously. "Have you been sneaking television when I'm not looking?"
Rebecca hid her face. "I couldn't sleep."
"Couldn't sleep." Grammy chuckled as she shifted on the rock. "Never mind that. Did you know the first time I tried to swim in the pond, I ran all the way back to the house and hid in a closet."
"You did?"
"I did. I was thirty-five years old. Couldn't swim a stroke when Gramps and I bought this place."
"How come?"
"My mama lost her daddy in an old farming ditch when she was twelve. He slipped and fell in somehow, probably hit his head. Since then, she wanted nothing to do with swimming. I was only allowed to play in clear water up to my waist. And could only go knee-deep anywhere else."
"Even when you grew up?"
"Even when I grew up. Besides, by that point, going deeper scared me too."
Rebecca studied her fingernails, picking at the rough spots. Everyone knew learning to swim made things safer. Not learning seemed silly.
"I did learn to swim eventually. Wanna know how?"
Grammy nudged her and she nodded.
"Gramps came and got me from the closet, kept sputtering, trying not to laugh at me. The goober." Grammy chortled. "I squeezed his hand tight as we walked to the end of the pier. When we got there, he gently pulled me down until we were seated at the end. Then he put his feet in."
"That's it?"
"No, but it was a start. It's also the first step in inviting those little fish over. Come on. I'll show you."
Rebecca's heart beat in her ears, and she shook her head. "Can't."
"Sure you can. I'll be right there with you, holding your hand the whole way. We'll take it slow, and I won't force anything."
With a deep breath, Rebecca lifted herself off the rock and slipped her hand into Grammy's. Together they walked across the old planked pier, Rebecca squinting at the brightness of the sun. Jitters lurched in her stomach, and she grabbed at it with her free hand. Then she stopped.
"One step at a time. That's all it takes," Grammy said.
"One step at a time." Only puffs of air left her lips as she muttered the repeated words.
The old woman's wrinkled feet dipped into the water seconds later, and she sighed as she closed her eyes and smiled. "Water's the perfect temperature. Nice and cool, but not cold."
Rebecca's knees pulled closer to her chest.
"Take your time. As slow as you need."
The longer Rebecca sat there, the nicer the water looked. Maybe it wasn't so much a woodland soup as a… a what?
"I like to think of this as God's garden. Not Eden. But close enough. Don't you think?"
"I guess."
That didn't feel right either, but she lowered her feet one at a time. Each leg disappeared below as the refreshing touch of the water rose to the middle of her shin.
Grammy leaned back, supported by her arms, and lifted her face to the sun. Rebecca decided old people shouldn't sit like that, but she didn't mind joining.
"Hold your feel still. The fish are here. Mmm, that feels great!"
"What do I do to get them to come?"
"Just hold real still, and when you feel their little lips touch you, don't move. Moving is the mistake people make."
A little tickle, almost like a heavy feather, glanced Rebecca's left pinky toe, and without warning, a jolt of energy shot up her back and she giggled. Another tickle zinged her third toe, and she resisted the urge to jump. "They're kissing me!"
"Fish kisses. That's the perfect way to describe it. Nice, isn't it?"
"Yeah," Rebecca said, grinning.
"There's not much more in the pond. Bigger fish in the deep water, but not around here. In fact, these little guys will leave the second we move."
"How deep is it?"
"Here? Maybe four feet. That way you can touch, but you don't have to."
"What's on the bottom?"
"Mostly dirt. There's some algae on the pier supports and a bit on any rock you might find at the bottom."
"Sounds slimy."
Grammy smiled as she leaned closer. "It is. But you don't have to worry about anything pulling you under except your cousins. And guess what? I won't let them do that."
A second later, Grammy dropped a rope ladder with three PVC pipes for rungs into the water, and the tiny fish disappeared. Then Grammy slid off the edge of the pier—her shirt billowing at the sleeves.
"Grammy, your clothes!"
The old woman splashed a little water at Rebecca's legs. "This is my swimming suit. No one wants to see any more of me than this." Lowering her head, she disappeared and then surfaced several feet away. "Come on, that sun's hot."
"Did you touch the bottom?"
"Nope. I never do. But you can!"
Rebecca stood up, her feet forming prints as she paced the pier. One step at a time. Her hands flitted at the ends of her arms, and she dashed forward, clenching her eyes shut as her feet left the warm wood and entered the cool water. One stroke at a time. Sunlight touched her face, and she swam toward Grammy, an earthy fragrance surrounding her.
Treading next to Grammy, she chanced a look down. The middle of her bathing suit faded into obscurity a little deeper than her hand and feet had by the pier. "I can see where my belly button is."
"That's pretty good for a pond."
Rebecca giggled. "Yeah."
"How are your feet?"
"Fine." She dismissed Grammy and her fears with a wave. "It's like swimming in a pool."
"Is it? I've never done that."
"Grammy!" she said. "Don't worry, I'll show you how."
Image by Randall Chancellor.

Enjoy more flash fiction by Kameo Monson on the blog.
Please follow and like us: