Book Review: Accidentally Yours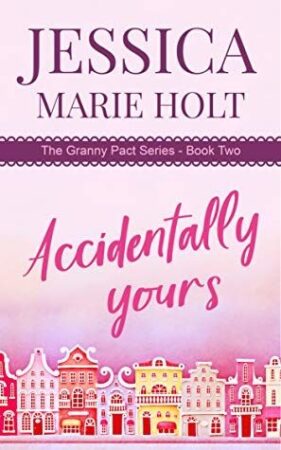 While some people think grannies have turned in all their flavor in lieu of dust and mustiness, it's hard to argue with Granny June's sweet pie and salty attitude in the Granny Pact Books. And Jessica Marie Holt knew it when she wrote Accidentally Yours, the second book of the collection. Musty or not, June and Ellie still manage to poke their heads around and find plenty of trouble you're sure to get caught up in too.
My Thoughts on Accidentally Yours
There's nothing more fun than watching grannies get involved in their family and friends' relationships. If you've ready Reluctantly Yours, then you know June and Ellie have a knack when it comes to matchmaking. So there shouldn't be much question as to whether or not their new business, the Match Mavens, can take off. You also know they'll do just about anything to make sure the right match is made.
This time Maddie is the subject of their affection-making collusion. But Maddie's mom, who hires them, has clear desires for her daughter: stability and success–anything but some creative working a low-paying, dead-end job. As you can guess, mavens set the fireworks off, and not all of them are romantic.
Accidentally Yours grabs everyone's attention, keeping characters and readers on their toes. Holt adds one or two more grannies to the mix. Each one with their own flavor of craftiness, and I don't mean hot glue and Popsicle sticks.
The book is filled with humor, cats, fun, and love–best of all the grannies. No one can go wrong with this sweet romance.
The official blurb
"Love, By Any Means Necessary. "
That's the new motto of old friends Ellie and June.
Fresh off the success of their first matchmaking endeavor, these two feisty grannies are ready to take their skills to the next level. They'll do whatever it takes to help Maddie–their next target–find true love, including hijinks, shenanigans, and good old-fashioned subterfuge. Unfortunately, Maddie's meddling mom makes their task more problematic than they imagined, and they soon find themselves in over their heads. Can they engineer the right outcome? Or, will their schemes all come to nothing this time around?
More info
Purchase Accidentally Yours on Amazon
Follow Jessica Marie Holt on Facebook & Goodreads & Twitter
Please follow and like us: