Book Review: Eubeltic Descent by Nadine C Keels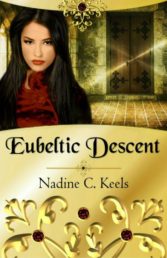 Abigaia lives a poverty-ridden life, and dreams of visiting the Eubeltic Realm fill her mind with a passionate yearning she cannot explain. No one would believe she descended from royalty, especially if they knew who gave her the information.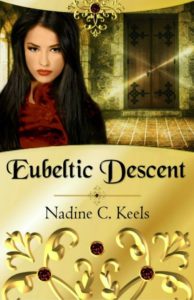 Nadine C. Keels has authored several books across more than one genre. Perhaps that's what makes Eubeltic Descent so unique. Written in a fictional world with fictional tales, the story contains no other fantasy elements. Instead, it reads more like a historical fiction, so much so, I struggle to put it with my fantasy recommended reads, feeling it fits better under the general fiction category.
My Thoughts on the Eubeltic Descent:
The world of literature starts when you realize everyone and thing in the has a voice. Voices ring truth, whether leaves rustle in the wind or laughter floats on a breeze. All of those words, those unheard feelings, eventually find their resting spot between literature's pages. Such is true in Eubeltic Descent.
Another culture lives within the various cultures of our world, yet few of us live it. The world of the hearing and speech impaired. So what happens when a young woman, with great intellect, lives with no voice? What happens when, as hard as she tries to be heard, the one closest to her calls her unexplained hand movements crazy? In those moments, do you imagine she might wish for more?
Eubeltic Descent follows the story of a young woman who cannot speak.  Written in third-person, the fairytale-style writing of Keels will pull you into the story even as you wonder how she's done it. The descriptions of Abigaia's silent laughter tickled my imagination. Read the following excerpt to see why.
She could have run faster without her basket, but it didn't matter. Her head went back as she released a delighted sound, but it wasn't tinkly, cackly, melodic, or anything else that would require some audible note or tone. It was simply a bubbling of wind that took flight out of her mouth: spirited, airy, and tuneless.
So often we live through the dialogue, but Eubeltic Descent, which does have dialogue, invites us to live between it. The story is well-written, unique, and a wonderful start to what I know will be a phenomenal series.
Official Blurb:
Your soul will remember…
As a woman who wasn't born to wealth or privilege, Abigaia has mastered the art of thievery. And she's come to hate it. Not only is she plagued by guilt, but her shadowed upbringing and silent ways cause most of her town to question her sanity.
Yet, Abigaia's eccentric father always taught her to be proud of her heritage. Her ancestry lies across the sea, in a prominent realm she's read about but has never seen.
The man who desires Abigaia's hand in marriage doesn't share her hope of seeing the Eubeltic Realm. But disaster erupts in their path, and Abigaia's dream may have a greater purpose—if that famed domain of her ancestors is now in crucial need of her.
More Info:
Purchase the Eubeltic Descent (Eubeltic Realm Book 1) on Amazon
Follow Nadine C. Keels:   Facebook      Twitter      Goodreads
Nadine C. Keels website: Prismatic Prospects
Read more book reviews, flash fiction, and more at KameoMonson.com
I received a  free copy of this book for review. All opinions are my own.
Please follow and like us: