Book Review: One Among Them by M.K. Dymock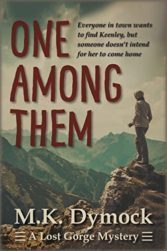 Keenley grew up in the Rocky Mountains. Unpredictable and dangerous as they were, they only brought her comfort…until they didn't.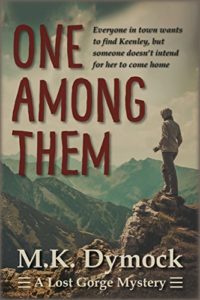 An outdoor enthusiast herself, M.K. Dymock hits this writing trail and rides it to the end. Lucky for us, we can follow along in her fictional mystery One Among Them. This novel keeps readers on their toes as they wonder if Keenley's family will find her before her attacker or the elements of nature take her life.
My Thoughts on One Among Them:
The blurb and subject of One Among Them called to me, and I picked this book up for myself. With just enough knowledge of the Rockies to think I had a clue, I jumped into chapter one. Then I spend several days trying to figure out where in the Rockies the story took place. My small knowledge of the 3,000-mile mountain range confused me. For the record, my limited understanding comes from a very small section of the Wasatch Front, which is located in Utah. Though I understood from the start that most people think of Colorado when considering the Rockies, my mind immediately went to Utah when the author described the western slopes. I also didn't realize there was a desert in northwestern Colorado, or that the Wasatch Front didn't butt directly up to the mountains in the neighboring state. So much for those geography lessons! Once I humbled myself and asked people to help me locate the area I was reading about, a whole new world (enter Disney music here) opened up to me.
One Among Them starts with action and keeps it going while allowing the reader to connect with the characters. I loved the way the author helped me to connect, not only to Keenley but also to her parents and others involved in the search. Throughout the story, I wondered who on earth the attacker was. As I got closer to the end and things were wrapping up, I thought I had it all figured out—nope. The swing and a miss didn't hurt too much, but it did smart a little. When I finished, I  thought about immediately turning to page one and starting over. Alas, too many other books await reviews. Still, this isn't a one-time read, not by a long-shot.
Official Blurb:
Everyone in town wants to find Keenley, but someone doesn't intend for her to come home.
The town of Lost Gorge, hidden and protected from the world by the Rockies, hides some secrets of its own. When Keenley Dawson never returns home from mountain biking, the town unites to find her. Most everyone assumes she's lost on the rugged trails or hurt.
She is lost and hurt, but it was no accident.
After being attacked and abducted, Keenley escapes into the wilderness. She knows how to survive the wilds, but what she doesn't know is how to live when she's being hunted.
More Info:
Purchase your copy of One Among Them on Amazon
Follow M.K. Dymock on Goodreads
Read book reviews, flash fiction, and more at KameoMonson.com
Please follow and like us: