Book Review: Hearts Unshackled (Royals of Andorvia Book One)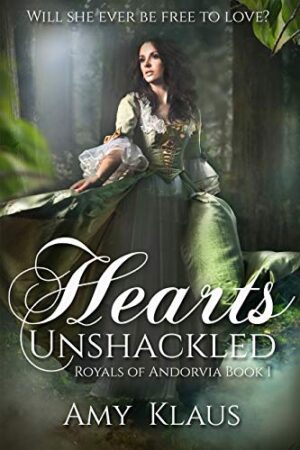 Author Amy Klaus introduced her first novel to the world on July 15, 2019, and it isn't one you'll want to miss. Hearts Unshackled, the first book in the Royals of Andorvia series, brings romance and action together in a way that keeps you reading through the night.
My thoughts about Hearts Unshackled
Last year, I had the opportunity to beta read Hearts Unshackled for Klaus. The story immediately captured my heart. As she prepared to publish, I jumped at the chance to review the finished product for her. And it is, of course, even better.
Set in a fictitious kingdom, it deals with the immoralities of slavery and the difficulties that come with uniting various cultures. While it is plain to see that the author has strong feelings against slavery and sees value in caring for others, I wouldn't label this a political book by any means. The intent is entertainment, and it entertains well. Given the choice, I wouldn't have put the book down during the second reading any more than I would have through the first.
The main characters, Princess Katherine and Naithanal, as well as most of the side characters, are well-rounded, and I found myself cheering and chastising them regularly–sometimes at the same time. As with any good romance, readers experience the ups and downs that come with love. The push for Katherine to become queen isn't easy for her or Naithan, and the immoral slave trade that infiltrates her kingdom only makes the situation trickier.
I highly recommend Hearts Unshackled. The perfectly clean read offers no swearing and has no inappropriate relationship scenes. While it deals with slavery, the main characters fight for humanity, and the violence involved during the action scenes is not described in gory detail. I would have no problem with my junior-high schooler reading Hearts Unshackled, and I can guarantee I'll be reading it again.
The Official Blurb
A princess. An outcast. A fate worse than death.
Will their love triumph, or will they be torn apart before it ever has a chance?
Princess Katherine has never questioned her duty as the heir to the throne of Maledonia. Never, that is, until she meets a hunter named Naithan and her entire life is thrown into disarray – blissful, dangerous disarray. But in spite of her attraction to the young hunter and his simple lifestyle, as the Crown Princess, betrothed since childhood, bound by her duty, she will never be free to love.
Duty takes on an entirely new meaning for Katherine and Naithan when a fledgling slave trade threatens to divide and destroy Maledonia … and their families. Will they have the courage to risk everything they love to save innocent lives from a fate worse than death? Or will they become the slavers' next targets?
More Info
Purchase your copy of Hearts Unshackled on Amazon.
Follow Amy Klaus Online
On her website
Facebook
Twitter
Goodreads
Pinterest
Please follow and like us: