Book Review: Sunlight and Shadows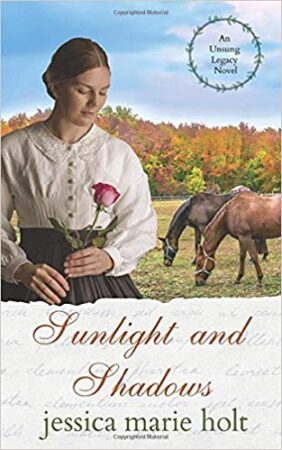 Jessica Marie Holt, one of my favorite short-story authors, has released her first novel Sunlight and Shadows. Set in 1870 in North Carolina, this wonderful story whisks you away to where power tools don't exist and the characters still remind you that some tribulations echo throughout time.
My Thoughts on Sunlight and Shadows
While technology advances and knowledge increases, some aspects of society never change. Secrets, jealousy, responsibility, and insurmountable pain lives within the pages of history similar to the way they exist in most of our digital journals.
Sunlight and Shadows allows us the benefit of another time period with horses and hand-built furniture as it deals with some of the same hardships we have today. The author provides us with another benefit by creating relatable characters with certain talents and undeniable faults.
I started this book and then struggled to put it down. It delves into the life of fictional character Elizabeth (Betty) Everleigh as everything she knows nearly tumbles into a pile of unrecognizable fodder. But as time continues and her life's story becomes clearer, she finds it easier to relate to those that hurt her most.
Sunlight and Shadows includes some sweet romance and deals most with parent-child and sibling relationships. You'll also find wholesome themes such as faith and forgiveness as Betty finds her way through life's trials.
Well-written and edited, this book is a dream for lovers of period fiction as well as general fiction. As a historical fiction piece, this book includes that which is necessary for the story; however, the story is not based on historical events. Don't let it stop you from reading it, though. It is phenomenal from start to finish.
The official blurb
At seventeen, the only thing Betty Everleigh wants for her future is what she's always had–a cozy home, a loving family, and a quiet life just outside of town.
Just when her dream is in reach, a sudden tragic event shatters her simple existence. As she picks up the pieces, she learns that her idyllic life was just a façade, and the truth beyond it is more complex and heartbreaking than she ever imagined.
To pull herself and her family together, she must find grace enough to forgive, faith enough to let go, and courage enough to move forward.
More Info
Purchase your copy of Sunlight and Shadows on Amazon.

Follow Jessica Marie Holt on Facebook & Goodreads
Please follow and like us: