Book Review: My Christmas Darling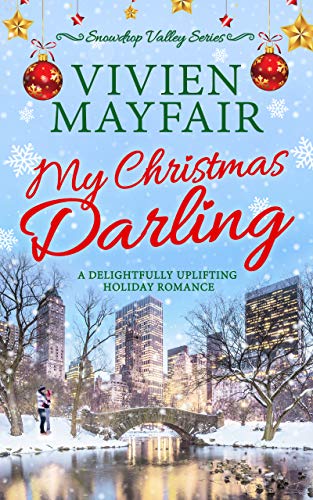 Vivian Mayfair must have a love of holidays. Most of her humorous books revolve around fun-filled holidays. My Christmas Darling is no different. Be ready for a world of name, novel, and TV scene dropping that will make you pat your sleeping partner as you laugh. It happened to me.
My Thoughts about My Christmas Darling
When the Christmas bug bites you, do you curl up on the couch with your favorite snuggly blanket, maybe a mug of hot chocolate, and a Hallmark movie crafted after your favorite holiday romance novel? If you do, then this adorable book by Vivian Mayfair is your next read.
The descriptions and dialogue Mayfair created had me imagining some of my favorite Hallmark stars as I read. Sara Rue is my choice for main character Lucy Carpenter, who wants nothing more than to have her Christmas novel published and help her mom, who was blinded in an accident, along the way.
What better way to insert a comedic romance into a holiday than have the story revolve around the publishing of a Christmas novel? I couldn't think of one. And this story takes has it all. Christmas decor, a grinch, a clueless elf who wants nothing more than to help, Ms. Claus spreading Christmassy goodness, and a misunderstood boy and girl that need to do nothing more than find each other to fix it all.
While I did enjoy My Christmas Darling, I do want to let my readers know there were a few word choices that made me wonder. When the main character thinks about the fragrance of her love interest, I was certain she'd say he stank, because the word 'smell' was used. I also wondered at the use of 'confiscated' when it was used to describe be seized in the hall for a kiss. None of it was significant to my enjoyment level, but it did pull me out of the moment a couple of times. I still recommend the book, especially at the $0.99 price point.
The official blurb
A SNOWDROP VALLEY BEGINNING…
Christmas has come to New York, but it doesn't feel very festive for Lucy Carpenter. Single, disgruntled in love from past hurts, she disappears into the world of books as a manuscript reader for a mid-level publishing company on the East Side. Plagued with guilt for a mistake that took her mom's eyesight, Lucy dreams of achieving financial success despite growing medical bills and unpaid rent. Her only hope of survival is to publish her little Christmas novel despite repeat rejections by big publishers. When her boss requests her publishing recommendations for the month, Lucy submits her manuscript under a false identity against strict company guidelines in what becomes the great holiday literary hoax of Manhattan where lies spin out of control and stockings are filled with coal instead of chocolates.
Known as the ice fish of Big Apple Books, William Harcourt longs for acceptance from a nitpicky father who rules the publishing industry with an iron fist. When a sweet Christmas manuscript about a father and daughter in a fictional book town crosses his desk, he believes it to be the ticket that will bring his company into the Top Five and finally gain him his father's love. What he didn't expect was to fall in love over email with an enchanting mystery author whose book thawed his wounded heart and opened his eyes to the true meaning of self-acceptance and self-love. My Christmas Darling is a heartwarming holiday romance to remind us why we love Christmas. This adorable love story draws you in fireside and proves how the spirit of the season goes beyond pretty wrapped packages under a tree.
Cozy up with a crochet blanket and a cup of peppermint hot cocoa and absorb into a festive world where books reign and true-love wishes come true. Ideal reading for fans of sweet and clean contemporary romance authors such as Debbie Macomber, Sheila Roberts, Holly Martin, Tilly Tennant, and Debbie Mason.
More Info
My Christmas Darling releases September 15, 2019, and can be pre-ordered now for $0.99 on Amazon.

Follow Vivian Mayfair
at Vivian Mayfair.com
Goodreads
Facebook
Twitter
Instagram
Pinterest
I received this book in exchange for a this review. All opinions are my own.
Please follow and like us: