Book Review: Reluctantly Yours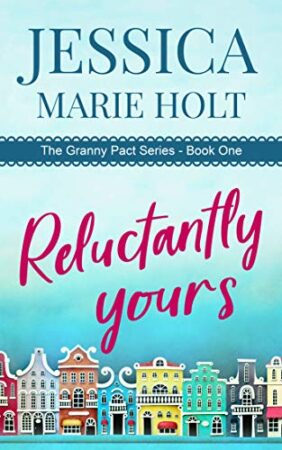 Jessica Marie Holt has spread her delicate wings and written her very first rom com. Reluctantly Yours brings us two best friends, bickering grannies who long-ago made a pact to bring their grandchildren together. But first, they have to get the two stubborn adult grandchildren to like each other again. This hilarious story kept me happily entertained and is guaranteed to do the same for you.
My Thoughts About Reluctantly Yours
Growing up, I had one grandmother who kept a spot on the couch for her dog. We couldn't sit there. She also kissed us on the lips with Dad in the background saying, 'Mom, stop spreading your germs.' And she piled National Geographics in the corner for decades. I loved her.
My other Grandmother lives further away and is now in need of help, but when I was younger she made the most amazing baked goods. She also tried to serve us a frozen turkey on Thanksgiving. And certain forms of dry humor soared right over her short, little head. I love her too.
Still, neither of my grandmothers can compare to the quirky, conniving, methods Ellie and June enact, all in the name of love and family. These two hilarious grannies definitely love their grandchildren, and they may, or may not, have their favorites. James and Sarah.
We've all been there: friends, sisters, parents, and fate try to set up the perfect, or not-so-perfect couple. My husband and I are the product of a successful set-up ploy. But have you ever considered, the bickering Bettys who've been besties for decades and have passed on their loveable, yet stubborn traits to their grandchildren that they want to see get together try? Spats, trips to the veterinarian, coffee, shared meals, more spats. And the kind of acting that usually only happens on stage. Filled with nothing but fun, Reluctantly Yours hits the mark, at least in this book.
Holt brings her wonderful writing skills to the table, showing her ability to cross genres without faltering. Best yet, Reluctantly Yours is the first in the Granny Pact Collection. I can't wait to see what kind of a scheme these two loveable characters dream up next.
The Official Blurb
Ellie and June have been neighbors and best friends forever. Together, they've weathered it all—marriages, babies, strange wardrobe choices, terrible haircuts, small-town gossip—only to have their friendship come out stronger on the other side.
But now, they're up against a hurdle unlike any they've faced so far.
Unmarried grandchildren.
Tragically—and inexplicably—James, Ellie's absolute treasure of a grandson, is single. And so is Sarah, June's unmatched delight of a granddaughter.
But these Grannies aren't worried. They have an ace up their sleeve
The Granny Pact.
Yes, these doting grandmas have vowed to engineer the romantic happiness of their grandchildren—by any means necessary.
Unfortunately, James and Sarah are not that easy to convince. And, unbeknownst to the grannies, their two grandkids share a past that will make their job much, much harder—and might even test the limits of their fifty-year friendship.
More Info
Purchase your copy of Reluctantly Yours on Amazon.
Follow Jessica Marie Holt on Facebook   &  Goodreads & Twitter
I received a copy of this book for free in exchange for this review. All opinion are honest and my own.
Please follow and like us: