Sting of the Scorpion: A Book Review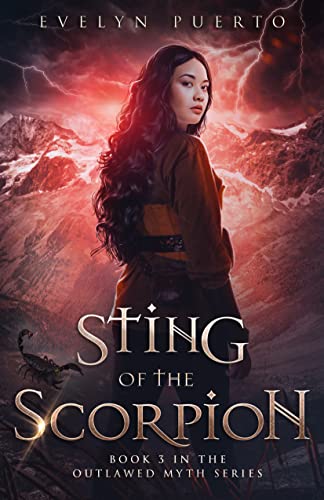 Damira seeks to save those held captive under the thumb of the warlords and their Endless War, but doing so leads down a dark and dangerous path that only her brother seems to see. Sting of the Scorpion, book three in the Outlawed Myth series by Evelyn Puerto, takes us to a land where all amulets were not created equally.
My Thoughts on Sting of the Scorpion
We all know what it feels like–being under someone else's thumb. The pain of deciding whether to live in pain and agony or squeeze through the escape hatch that threatens us as much as it promises to save us. Granted, if you're like me, that thumb may be your children at the bathroom door, and the escape hatch is a momentary glimpse of a book's page instead of the knuckle work of doing the dishes. But for some people, it can mean the difference between eating or starving the next day. In Sting of the Scorpion, the question posed is whether or not squeezing through that escape hatch is the only way to find survivable happiness. Or is the escape hatch all we can see because we find ourselves wanting more than escape? Do we also seek power?
Sting of the Scorpion is a little different than books one and two in the Outlawed Myths series. We learn about amulets that hinder more than heal. It's another outlook. I found myself able to connect with the characters despite our personality differences. Well-rounded, the characters showed me plenty of similarities entwined with our overwhelming differences. In a way, that made the book more enjoyable.

I've always enjoyed the way Puerto's books encourage readers to think about society and how certain actions that seem right may actually be wrong. Her books teach lessons worthy of being listened to, but they don't shove those lessons down the readers' throats. Instead, readers must look between the pages and think for themselves. That is what Sting of the Scorpion allowed me to do, all while telling a fantastic story with battles, tasks, and great new characters.
The Official Blurb
After Damira witnesses the brutal slaughter of nearly her entire clan by a roving warband, she resolves never to feel helpless again. With nowhere to go, she, her brother, and a friend surrender to a warlord, resigned to becoming little more than pawns in the Endless War.
But when Wei Fang, a warlord wielding magic amulets threatens to destroy anyone who stands against her, Damira must choose. Will she seek to master the power of the amulets and make a stand against the brutal Wei Fang?
Or will the power behind the amulets destroy her first?
Sting of the Scorpion is the thrilling third book of the Outlawed Myth fantasy series. If you like determined heroines, compelling characters, magic amulets, and a splash of romance, then you'll love Evelyn Puerto's exciting tale.
More Info
Purchase your copy of Sting of the Scorpion on Amazon.
Visit Evelyn Puerto on her website.
I received a copy of this book for free in exchange for this review. All opinions are honest and my own.

Visit KameoMonson.com for short stories, more book reviews and information about Kameo Monson's books.
Please follow and like us: