Royal Captive (Fate of Eyrinthia): A Book Review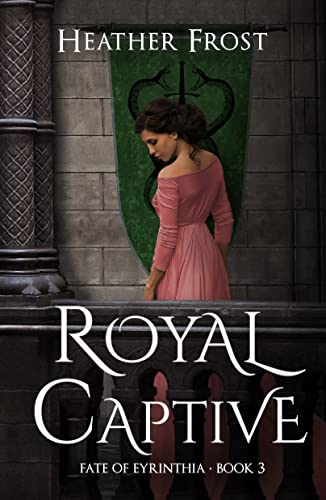 The Royal Captive, book three in the Fate of Eyrinthia series by Heather Frost, keeps readers' hearts galloping for more.

When Clare, the princess's decoy, finds herself suddenly held captive and her beloved bodyguard is on the brink of death, hope seems nearly, but not quite lost. Desfan, the actual princesses' betrothed, searches for truth. And Grayson is forced to choose a path; can he choose the one that leads to Mia's freedom?
My Thoughts on Royal Captive
Heather Frost and her writing first captured my attention with some fun word choices and well-written fantasy romance and adventure. Since then, I've looked forward to reading the subsequent books in her Fate of Eyrinthia series. Through books two and especially three, the puzzle pieces start to come together, and readers like me find themselves yearning for the next piece that lies just out of reach.
In Royal Captive, it doesn't take long for Clare, Desfan, and Grayson's story to pick up, their threads weaving together into what becomes a delicate and tenuous tapestry. Onlookers still have plans to kill just about everyone else. These three and their trusted allies are the pawns in a four- or five-sided game of chess. Impossible? Chess is a game between two players? Not in this game. As discoveries are made, the moves within Royal Captive become more complex. And the pawns? Well, they realize they have choices–life-saving or debilitating as they may be.
Royal Captive, like the other books in the Fate of Eyrinthia series, kept me on my toes. I enjoyed every minute I spent reading it. I look forward to the release of book four when I can do what all true fantasy readers love to do: experience everything from the beginning–all over again.
The Official Blurb
A DECOY trapped in a dangerous lie
A SERJAH searching for the truth
A PRINCE caught in a deadly game
A WORLD choked by secrets
Abducted during a devastating ambush, Clare is now the captive of ruthless mercenaries. Dragged through the wilderness while grieving heart-rending loss, she must maintain the illusion that she is the princess. Because if she lets the mask slip, even for a moment, the Mortisians will have no reason to keep her alive.
After arresting traitors close to the crown, Desfan fights to rebuild his court, knowing that the imminent arrival of the Devendran princess will further upset the precarious balance in Mortise. But Desfan's world is rocked when he discovers a rumor that rewrites the most devastating event in his life. He will stop at nothing to find the truth–no matter where it leads.
As Grayson struggles to find his footing in Mortise, he discovers new friends and enemies. His life is further complicated by the tenuous alliance with his spymaster brother. With secrets deepening around him, Grayson must decide where his loyalties truly lie. Through it all, his heart remains in Ryden with Mia. Unfortunately, his love for her is no secret, and the Black Hand is a coveted weapon . . .
Eyrinthia holds its breath as allies and enemies collide. Secrets. Lies. Betrayals. Nothing will be the same.
Royal Captive is book three in the Fate of Eyrinthia YA fantasy romance series, and should be read in order. If you like swoon-worthy romance, complex characters, and non-stop action with epic twists, then you'll love the captivating world of Eyrinthia!
More info
Purchase your copy of Royal Captive on Amazon.
Visit Heather's website: HeatherFrost.com.
Follow Heather on Facebook, Instagram, and Twitter.
I received a copy of this book for free in exchange for a review.
Visit KameoMonson.com for short stories, book review, and information on Kameo Monson's books.
Please follow and like us: