Book Review: Love From Left Field: A Billionaire Romance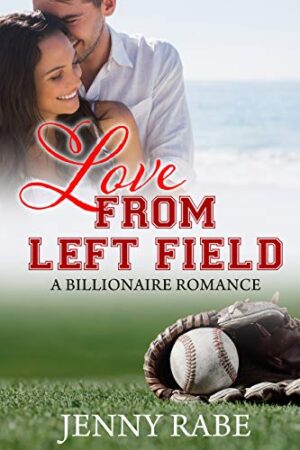 Jenny Rabe, author of three sweet romance novels, has a knack for bringing love to life, especially in the beginning stages. Perhaps that's because she experienced 150 first dates before getting married. Either way, Love From Left Field will cause your skin to tingle and your heart to flutter, just like when you first met the love of your life.
My Thoughts on Love From Left Field
While I often explore love in my writing, I'm not always so keen on reading romance novels that don't delve deeper into the raw parts of the experience. And love is an experience. We feel it, yearn for it, seek it, and revel in it once we have it. It's no wonder so many books are filled with it. But it takes an understanding, a connection to oneself and others, to create a romance story that doesn't come off as ridiculously cheesy. Rabe has that understanding.
Love From Left Field explores love after loss, love after betrayal, PTSD, and grief. It honors those who have served and those who are serving in the military. The characters come across as real human beings, albeit, one is incredibly rich. It's the kind of book you read on the beach because it's easy to follow, and the kind you read in the library because you want to digest the whys and what fors.
This incredibly clean read won't drag you down, but it will help you better appreciate your life and the lives given to keep you free. Enjoy splatters of paint, dusty baseball fields, good looking people, and dutiful dogs.
The Official Blurb
After losing her husband to PTSD, Cambria Henshaw desperately needs to start over, so she packs up her paints and moves to Harker Heights, Texas. Inspired by welcoming surroundings and friendly people, Cambria begins to paint one portrait after another, with one small problem: haunted by survivor's guilt that keeps everyone at a distance—and her heart safely guarded—she can't bring herself to finish any of them.
Brian Davidson thinks he's finally put his past behind him. As an anonymous CEO billionaire, he's sure this small Texas town will be his refuge from the spiteful ex who smeared his name through the mud in the national papers. But when someone starts stalking his baseball practices, threatening to expose his identity, he worries his ex is back for more revenge.
When Cambria and Brian are thrown together during a service opportunity through their grief group, the attraction is undeniable, but so is their hesitation. As the two of them battle their inner demons and their real-life enemies, they must both decide what they're willing to risk for a 9th-inning chance at "home-run" love.
More Info
Purchase your e-book or print copy of Love From Left Field on Amazon.
Follow Jenny Rabe on Facebook Twitter Goodreads
Visit Jenny's website and her newsletter.
I ordered this book free from Amazon. All opinions are my own.
Please follow and like us: