Book Review: Love Is a Wistful Song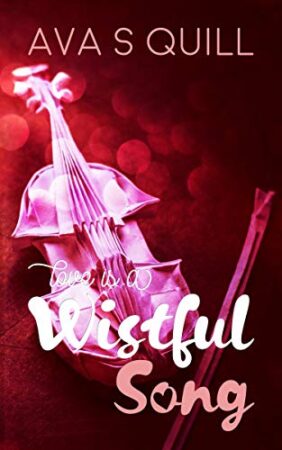 Ava S. Quill calls herself an aspiring author, claiming there is always plenty more to learn. If that's the case, and it usually is, I can't wait to read her 'professional works,' because her most recent book, Love Is a Wistful Song, captured my heart the same way How to Train Your Dragon's and Band of Brother's soundtracks sent blissful shivers up my spine.
My thoughts:
Before meeting my husband, music was my life. My parents loved me a lot. I know because they rarely asked me to stop singing or playing the piano as I worked on whatever I'd chosen for that day. They also rarely complained when I sang as we walked in public places or on the boat or in the tent or on a peaceful trail.
I had all kinds of little things I did to take care of my voice. For instance, I didn't eat or drink dairy before a performance so I wouldn't coat my throat. I also refused to make certain noises in order to avoid voice nodules, something I really wasn't in any danger of getting in the first place.
It wasn't that I wanted to be famous. Not at all. To this day, I love the feel of the keys under my fingers and the delight I get from singing. And in case you are wondering, yes, I still sing under my breath as I walk through public places, and I am not bothered by it in the least. My kids, on the other hand, are.
in Love Is a Wistful Song, none of Aryen's family is embarrassed by her skill on the violin. After all, she takes an old, inexpensive violin and makes it sing in a way most people can't make the most precious of instruments trill. In fact, even though most girls in their family get married by eighteen, often through arranged marriages, they support her dream of attending the most prestigious conservatory.
When she's ripped away from the man she privately dreams about, her music turns upside down. Being promised to his cousin twists her strings into knots until they snap.
Saying Love Is a Wistful Song kept my attention would be a bit of an understatement. I found myself wanting extra time to read and stealing it from those precious hours of sleep that I beg for every night.
The story takes the hearts of two people and wraps their melodies together as their world tries to rip them apart. The well-rounded characters made me happy and angry. I found myself with flared nostrils as anger flitted through my veins several times. That is not something I've experienced in a long time. The editing, grammar, storyline, and excellent writing took this indie book to a professional level every indie author should reach before publishing.
Some books we treasure because they are entertaining reads that we can finish on the beach without worry of the underlying melodies. Other literary treasures require us to make it through the heavy ballad before we can appreciate the harmonies, while only a few treasures, like Love Is a Wistful Song, entwine melody and counter-melody with harmonies to create a beautiful concerto we want to listen to again and again.
Clean, beautiful, and thought-provoking. I absolutely recommend Love Is a Wistful Song.
The Official Blurb:
Music-obsessed Aryen dreams of attending a prestigious conservatory and, sometimes, about her childhood friend Ryan. But when her dream to study with the masters comes true, it demands a high price—Aryen must agree to an arranged marriage with Ryan's popular cousin Blaine. When she protests the arrangement, her grandfather threatens to destroy Ryan's already challenging prospects, forcing Aryen to choose whether to pursue her feelings and sacrifice her lifelong dream or give up Ryan in order to protect him.
More Info:
Purchase your copy of Love Is a Wistful Song on Amazon

Visit Ava S. Quill at www.inkedkeyboard.com
Twitter
Instagram
Please follow and like us: