Book Review: Evan the Horrible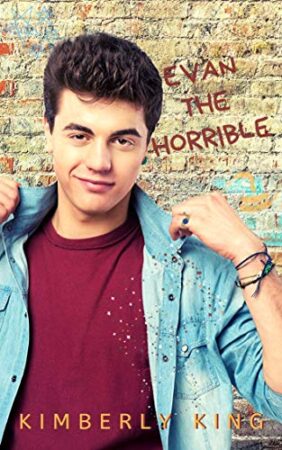 Kimberly King has another fantastic Forest Hills High book to go along with the Magical Troubles books. And if you liked Evan in The Trouble with Prince Charming you are in for a treat. He's back in all his annoying glory. This time he's given all the power he needs in Evan the Horrible.
My Thoughts about Evan the Horrible
King does a lot of things right in her books. Each book includes humor that both middler graders and parents can enjoy. They include dilemmas teens face in fun and appropriate ways. And each one comes with a lesson kids don't focus on and parents love. In Evan the Horrible that lesson is easily described by the idiom don't judge a book by its cover. As a secondary lesson, King throws in mind over matter.
In Evan the Horrible, the main character, Jazzy Allen, has distanced herself from the rest of the school. After the loss of her father and consequently her best friend, she drastically changes her outer appearance to avoid becoming close to anyone.
The problem is Evan doesn't leave anyone alone. As the school trouble maker, he pulls Jazzy into all kinds of crazy incidences that leave her worried about the one thing she cares about: her scholarship. It doesn't help that he's suddenly accessed magic that grants all his wishes.
If you've read my other reviews, you know I love King's books, especially her sense of humor. It's quirky, fun, and clean. We're talking about food fights, explosions, and paralytic… we'll I'll leave that one for you to discover. But when you're wondering what books your middle grader might enjoy reading next, start with King and don't forget Evan the Horrible.
The Official Blurb
First, the janitor's foot was inside the brick wall. Then there was the mysterious ring. But the strangest of all? That was yet to come.
Jazzy Allen's already complicated life suddenly gets messier when class clown Evan Rice gets both of them sent to the principal's office. Fearing she'll lose her scholarship, Jazzy is determined to avoid him at all costs. But when Evan gets hold of a wish-granting ring, he pulls her into his mischievous mayhem while the school becomes his playground.
His magical pranks seem harmless enough, but behind mud-slinging cheerleaders and a food fight of epic proportions, something sinister lays waiting. With their school on the brink of destruction, Jazzy must learn to work together with the most infuriating guy in Forest Hills High before the power behind the ring destroys them…and everything else.
More info
Purchase Evan the Horrible for Kindle or in print on Amazon, or read it on Kindle Unlimited.
Follow Kimberly King on Facebook
I received a copy of this book in exchange for my honest review. All opinions are my own. 
Please follow and like us: