Book Review: Not In the Plans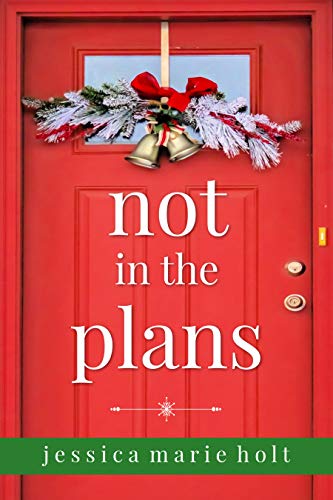 What's Christmas without a new Christmas story filled with holiday giving and romance? Some may say nothing, but this year, I prefer how Jessica Marie Holt explores the other side of giving–that of receiving in Not in the Plans: A Christmas Novella.
My Thoughts on Not in the Plans
One of the beautiful attributes of Holt's writing is her ability to tell more than a story. Each one of her books and short stories leaves you with a little bit to ponder. Which character are you like? Have you felt the sting of rebuke? The angst of loss? The pull from something unexpected?
Not in the Plans is more than a story about two lonely people coming together at the hands of a darling little boy. And he is darling. Inside its few pages comes a story about two people desiring to be loved for who they are, willing to give everything, but who are still learning to recognize love and receive it graciously.
How many times do we need help? I'm not talking about those days when we want help and a little cheering up. Though those days can certainly be applied with this concept. I'm talking about those times when we cannot function because our water heater blew up our house, and then the hotel provided to us afterward floods. I mean those times when our choices are losing nearly everything or accepting help.
Do you dig in your feet, like I do, and continue to on a path you deem the only acceptable way? When someone gives too much, do you thank them, or do you say 'it's too much' and question the reason why they attempted such a grandiose gift?
But it's more than that… Do we let a little bit of ourselves go in order to accept the differences of others? Isn't that a part of receiving?
Not in the Plans still brings two beautiful and truly charming people together. And the pure love of a child leads the way, but when you read Not in the Plans this week, be sure to consider the act of receiving. It can be as important as the act of giving.
The official Blurb
Two neighbors, on a quiet street, in a cozy Southern town. Jackson is a once-jilted bachelor looking for a way to patch up his broken dreams. Emory is a struggling single mom determined to hold things together on her own.
When Emory's little boy brings them together unexpectedly, they find a new source of hope in each other, just in time for Christmas.
But then Emory's past threatens to derail her little family's future, and her new relationship with Jackson. Will hope be enough to save them?
More Info:
Purchase your copy of Not in the Plans on Amazon
Follow Jessica Marie Holt on Facebook & Goodreads & Twitter
I received a copy of Not in the Plans for free in exchange for this review. All opinions are honest and my own.
Please follow and like us: