Book Review: Frozen Secrets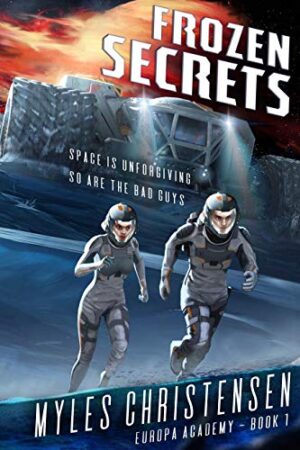 Myles Christensen has his hands in a lot of technology, an area some might consider an odd recipe for the makings of an author. As a design engineer and freelance product developer who teaches CAD at the university, he likely gets pieced in with those who live their lives surrounded by nothing but logic. However, each of these skills require creativity and finesse. Add game inventor to Christensen's list of accomplishments, and author isn't such a far stretch.
Christensen's first novel Frozen Secrets is a middle grade, science fiction story that takes readers on an adventure to space and throws in an action-packed mystery in a way I didn't expect.
My thoughts about Frozen Secrets
In Frozen Secrets, main character Max and his group of friends get tangled up in a mystery while on their way to Jupiter's moon Europa. Before he knows what's happening, someone tries to kill him… or a friend… or the pilot of the shuttle they are touring. Max thinks it's because of something he saw, and he's determined to learn the truth. What thirteen-year-old boy wouldn't want to solve that mystery?
Though I've read some middle grade novels in the past, most of what I have read has bordered on the YA side of things. So, when I first started Frozen Secrets I wondered what I had gotten myself into. Too young my mind shouted at me. I had expected the book to fit within a higher reading level. Once I acclimated to the necessary he felt sentences, my interest in the story rose a surprising amount.
While reading, my eyes widened at times. My heart even raced. Such reactions were unexpected, considering my need to adjust to the reading level. But, instead of focusing on my other reading projects, I found myself intrigued with what would come next in Frozen Secrets.
Christensen's writing and the editing done on this book is impeccable. Usually, I find at least a few typos in review books. None–that's how many I remember in Frozen Secrets. And while those things matter, especially when I'm reading as a reviewer, the true test is whether or not the story pulls me in. While Frozen Secrets took a bit of time for me, an adult, to fall into, I believe young readers will have no problem immediately entering the adventure Christensen has laid.
Squeaky clean. Parents will find no swearing. There is a mild murder mystery and some middle grade 'crush' romance. Christensen lists the reading level at 8-18, which I agree with, especially on the lower end. Narrowing it significantly, I believe most 8 to 10-year-olds will find it a fantastic read. Who can go wrong with a space adventure?
Official blurb
Thirteen-year-old Max Parker is a grounded Earthling with the soul of a space explorer. So when he learns his family is relocating to Jupiter's moon, Europa, he readily agrees to stay out of mischief. But his promise is soon forgotten, and his snooping lands him on a shuttle doomed for a fiery disintegration.
Convinced someone sabotaged the craft to cover up the theft he witnessed, he digs into the incident. Why was this robbery worth attempted murder? Dodging a series of deadly accidents, he follows the clues to an abandoned outpost and discovers a secret that could blow the lid off a moon-wide conspiracy…
Can Max solve the mystery before his interplanetary escapade gets him killed?
Frozen Secrets kicks off the thrilling, teen science fiction series, Europa Academy. If you like fearless friends, high-orbit mysteries, and immersive worlds, then you'll love Myles Christensen's action-packed adventure.
more info
Purchase your copy of Frozen Secrets on Amazon
Follow Myles Christensen on his website Facebook Twitter Goodreads
I received a free  copy of this book in exchange for this review, which contains my honest opinions.
Please follow and like us: