Book Review: The King's Shadow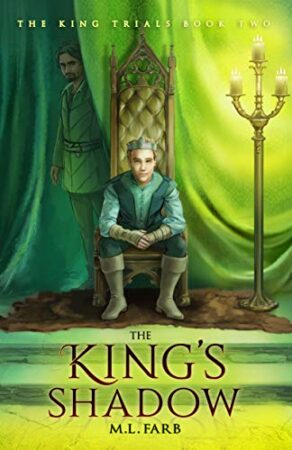 M.L. Farb, author of The King's Trial, a Whitney Award nominee, has released The King's Shadow (The King's Trial Book Two). Don't be surprised when you love it as much as I do.
My Thoughts on The King's Shadow
As I've mentioned before, Amazon is riddled with poorly written fantasy. So much so, I am extremely careful when determining what fantasy books to accept for reviews. It would, then, make sense that becoming an award nominee in the fantasy category would not be a simple task. Yet, as I suspected, M.L. Farb managed the task. Don't be surprised when The King's Shadow shows up in the next Whitney Awards round. Just as wonderful as the first in the series, this book captures hearts.
The King's Shadow continues the story of brothers Yoseph and Halavant. After traversing the King's Trial and helping to save their people from Halavant's evil mother, Yoseph remains with his brother. Together they work on a plan to equalize their people. But Yoseph is dying. In a last ditch effort to save him, Halavant travels to the land of the Carani in search of a cure for what ails his brother.
With old and new characters joining the story, readers follow the journeys of Yoseph, Katrin, Halavant, and Elise. Each battle their own demons as they strive to protect one another and their country. Fighting for all but themselves, they also learn to trust those around them and Yoseph's god.
Filled with plenty more action, romance, and a story line that instills faith in God within its readers, The King's Shadow has me hooked just as much as its predecessor. Expect mild war scenes, some PG-level violence, and mild kissing.
Official Blurb:
Two princes lead a war-broken people. One rules while the other serves in the shadows, haunted by encroaching death.
Halavant overthrew his queen mother to save his people from slavery, and now she seeks his life. Yosyph acts as the new king's eyes and ears, but being invisible comes at great cost and his life is slipping away.
To save his closest friend, Halavant travels to the land of the skin-carving Carani, leaving Yosyph to rule a troubled people despite his ill health and the nobles on the verge of rebellion.
Unless Halavant can survive in the land of his enemies to find a cure and Yosyph can unite the frightened and starving people against a second war, both will die and their budding democracy will crumble under a new tyrant.
More Info
Purchase your copy of The King's Shadow (The King's Trial Book Two) on Amazon.
Follow M.L. Farb online
Facebook
Twitter
Goodreads
The Worlds of M L Farb
I received a free copy of this book in exchange for a blog review. All opinions are honest and my own.
Please follow and like us: