Book Review: The Kings Trial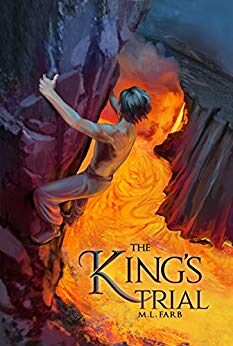 Many have died traversing the King's trial, but Yosyph has only one chance to save his people from the Queen's wrath.
After years of staying up at night and telling stories to her sister, M.L. Farb enters the world of fantasy with her newest book The King's Trial. A story filled with adventure, royalty, heroes, and a smidgen of romance, this is a tale lovers of fantasy won't want to miss.
My Thoughts about The King's Trial
Though I write women's fiction and read several genres, fantasy stands as one of my favorites. Don't spend a second longer wondering why; it's because I can't fathom the amount of talent it takes to create worlds and abilities, let alone understand the finer points of swordplay. I've enjoyed it for several decades, and still do, when it's written well.
Amazon is riddled with poorly written fantasy. In fact, as a past product review blogger, I eventually refused indie books in the genre. However, having read a few other stories of Farb's and knowing her writing ability, I decided to give The King's Trial a chance, and I'm glad I did.
Farb clearly paints a picture of the kingdoms where this story takes place. The abilities given to characters are not overdone and there are no ridiculous monsters. Swords, honor, courageous fair maidens, and a clearly stated evil exists. The main character fights his way through personal demons while exerting himself physically. The characters are well-rounded and easy to like – or not.
As in many fantasy stories, the main character in The King's Trial has to trust a higher power. Obviously based on Christianity and the idea of faith, The King's Trial is perfect for all ages. Those who are not Christian will find the same integral standard we all desire in ourselves and for our children: honesty, kindness, and selflessness.
Written in first person, from the perspective of two characters, readers enjoy two adventures and are rewarded with the desired suspense as they wind together. Plenty of twists and turns exist, and at no point will one become bored. I sure didn't.
The official blurb
In a land where stories of the Shadow Demon keep children shivering in bed and tales of the Yorel bring hope to the commoner, Yosyph is both the reason for their fear and their hope.
By day Yosyph appears nothing more than a mute tavern-hand. By night he plans a revolution and slips through shadow, rescuing those marked for death by the xenophobic queen.
When he learns that thousands of his people will be sent as slaves to the mines, he must choose—fight the royal army with an ill-prepared rebellion or journey to the land of his ancestors through the deadly King's Trial. If he succeeds, he'll win his kins' loyalty and their help.
His journey grows complicated when he rescues a maiden and enrages a prince, but if he doesn't return with help in time, the people he's loved and secretly served will be gone.
More Info
The King's Trial is available on Amazon beginning July 16, 2019.
Enjoy your free e-copy if you pick it up July 16-17, 2019.
Enjoy it for $0.99 July 18-22, 2019
Follow M.L. Farb online
Facebook
Twitter
Goodreads
The Worlds of M L Farb
Please follow and like us: