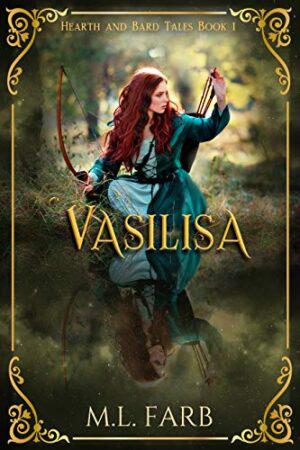 M.L. Farb, author of the King's Trials duology, has created Vasilisa, a fantasy fairy tale youth and adults won't want to miss. First, read my review. Second, read the book. Third, enjoy the back matter that Farb stocked with questions, explanations, and definitions!
My Thoughts on Vasilisa
I may write women's fiction, but I am a sucker for good fantasy. In fact, it may be my favorite genre. Why do I write women's fiction then? Because I have no idea how to create worlds filled with magic and wonder. So, for now, I stick with what I understand: stories with a different kind of magic.
That said, I won't set foot near poorly written fantasy, and plenty of that lands on Amazon. But self-published M.L. Farb is up there with some of my favorite fantasy authors. Jeff Wheeler, M.L. Forman, and Brandon Mull, to name a few.
Basics of the Story
Vasilisa takes readers into a world echoing that of Slavic Russia. The main character, born in the forest, now works as a servant on the lands owned by her best friend's parents. Her forest heritage gives her strength, but to keep her mother and friend safe, she often allows others to bully her.
Like me, Vasilisa yearns for the forest. She aches to return to her birch trees. Her dreams call her there, but she has to wait. And waiting is especially difficult when she keeps getting in trouble. The lack of knowledge surrounding her forest heritage only adds to her longing.
This incredible novel tells of a young woman who finds herself while protecting those she loves. Called evil by others, now she proves her skills of trickery and deception can also be used for good.
Only Good
Farb labels her books YA, but adults will love Vasilisa as much as any other fantasy book. Public unrest, self-discovery, war, romance, and the choice to be good or evil pack these pages. Teachers and parents, this book is perfect to read together. The questions in the back only make it better. Whether you need a book for yourself or your child, you can count on a perfectly clean read with adventure at every turn!
Official Blurb
Vasilisa has always been strong. She's strong enough to break the arm of the bully that daily taunts her. She won't because she and her mother are servants at the Orlov manor, and her mother would be punished for her retaliation. Instead, Vasilisa bides her time until she is sixteen and can return to the forest.
Only Staver, the master's son, shows her kindness. His friendship pulls as strong as the forest, but their classes are divided forever by law. She is a forest born, fatherless servant and her future at the manor holds mockery filled drudgery.
War threatens. The forest calls. Will she stay to protect the one who can never be more than a friend, or flee to the peace that the forest offers?
More Info
Purchase your copy of Vasilisa on Amazon; preorder for $2.99 through May 17, 2020
Follow M.L. Farb online
Facebook
Twitter
Goodreads
The Worlds of M L Farb
I received a copy of Vasilisa in exchange of this review. All opinions are honest and my own. 
Please follow and like us: