Book Review: Spinning Silk by T. Cook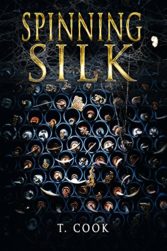 T. Cook weaves Japanese mythology and women's fiction together, creating one exquisite piece of literature in her debut novel Spinning Silk.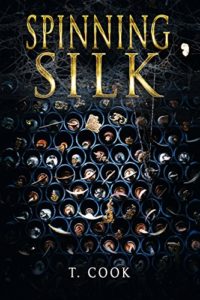 Spinning Silk, written by T. Cook, transports readers back to a time of the Samurai when only nobles wore silk and peasants became slaves. Then, in a flash of fantasy so well-formed through mythology and the written word, reader's find themselves believing the unreal to be true. Filled with the emotional gamut found in T. Cook's novel, I found myself enamored and unable to put Spinning Silk down.
About Spinning Silk:
Furi lives anything but an easy life. Perhaps the most adept and creative silk weaver in all of Japan, she finds herself treated as a slave by her adoptive mother and then sold as a slave to a cruel woman who exploits her weaving talents to the brim. Though the beatings make life miserable, the pull of the loom keeps Furi creating for herself as much as for anyone else. Seven years she spends sprawled for punishment befitting the very masters who wield the whip, until Shin, a humble yet strange slave, comes as a gardener. Soon, illnesses and death surround Furi as much as Shin's mysterious healing. When Furi finds herself alone, Madame Sato teaches her to live the life of nobility only to suddenly introduce Furi as her dead daughter. Searching for the truth of her existence, and hoping for love, Furi travels through the best and worst of emotions, creating and growing along the way.
My Thoughts:
T. Cook pulled me into her creation immediately with incredible prose and perfectly-written imagery. As a fan of fantasy, I know I can be pulled into other worlds but was uncertain about being pulled into Feudal Japan, and I hoped my limited knowledge of Japanese history wouldn't distract from the story. My fears were unwarranted, as Cook painted an amazing picture. To help those who want more, she included explanations of the terms (found in italics) at the back of the book.
Not everyone loves fantasy, but I emphatically recommend Spinning Silk to readers of women's fiction and romance novels, including those who don't usually read fantasy. The fantasy is not overt, and life shines through more than mythical creatures, magic, or the like. Sorry, fantasy lovers, you won't find a mage, and the dwarves stayed home with Snow White, but I promise you'll love this incredible book anyway.
Spinning Silk does have some typos, and they are typos, not problems with word choice or lack of writing skills. They do not detract from the story at all. The novel is a clean read without the need for a disclaimer. It has immediately won a home in my library as a definite read-again-and-again. I can't wait for the release of the second book, Shin.
More Info:
Purchase your copy of Spinning Silk on Amazon.
Follow T. Cook on Facebook and Twitter
Visit her website: www.tcookbooks.com
Learn more about me and download your free copy of Sometimes a Bird Has to Fly by visiting my website: kameomonson.com
I received a free copy of this book in exchange for this review. All opinions are my own.
Please follow and like us: