Book Review: The Songs of You and Me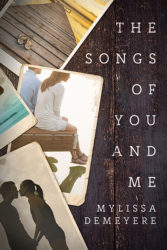 A true-to-life sweet romance, The Songs of You and Me reminds us that dreams can come true.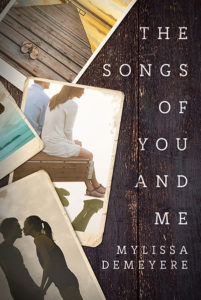 Mylissa Demeyere enters the writing scene with her first novel, The Songs of You and Me, a sweet romance about second chances. If you love simple, yet sweet love stories, you'll want this one.
About The Songs of You and Me:
The Songs of You and Me follows the stories of Jane and Jackson. Would-be high school sweethearts, if nothing had gotten in the way. But life did, as it usually does. Now that Jane and Jackson are both single and, once again, living in the same small New York town they grew up in, what happens next is anyone's guess.
Reader's learn about the love Jane and Jackson shared in high school through labeled chapters, similar to flashbacks, while at the same time, following their current lives as they rekindle their past friendship with a little help from Jane's best friend and Jackson's sister, Sarah. But the heartache of their past marriages brings pain to the forefront. Read the book to find out if they end up in each other's arms.
My Thoughts:
"So, how did you two meet?"
It's a question we've all heard and answered—one we ask each other regularly. Watching the smiles and the love pass between husbands and wives fascinates us, giving us goosebumps in all the right places. That's what Mylissa Demeyere's book, The Songs of You and Me reminds me of—a simple love story everyone wants to hear. To make your reading experience even better, Demeyere includes a link to a fitting song at the beginning of every chapter. While my Kindle has no speakers, I thought the idea was genius.
I found Demeyere's writing simple and easy to read. There were some errors in the word choices and editing, but that can be expected in every book. Though I noticed the errors, I didn't feel they detracted from the story much, if at all. The storyline is one-hundred percent believable; if you want an extreme love story, you won't find it here. However, you will find descriptions of some mighty fine looking people, or hot, as Demeyere describes them. I did find myself getting a bit lost in the heavy descriptions of the characters' styling choices (especially Jackson's), but I tend to prefer limited character descriptions.
Overall, I enjoyed the story and would read another by Mylissa. Though I'm not likely to read it again and again, it brought a smile to my face, sometimes it's the simple pleasures.
The Songs of You and Me is a clean read. Expect some hot kissing and some mild swearing.
More info:
Purchase your copy of The Songs of You and Me on Amazon
Follow Mylissa Demeyere: Facebook, Twitter, Pinterest, Instagram, Goodreads
Visit her website: www.mylissademeyere.com
Have a book you'd like reviewed?
Contact me at [email protected]. Find my guidelines on my Recommended Reads page.
Want to see more from Kameo? Receive my monthly newsletter and get a FREE copy of Sometimes a Bird Has to Fly: a Flash Fiction Piece by leaving your name and email below.
Please follow and like us: