Book Review: The Trouble with Prince Charming
With a little help from her fairy godmother, Nikki Baker got it all: the boy and the kiss. But dating the hottest guy in school comes with more than magical butterflies, and wading through the gossip, lies, and betrayal has her mind doing backflips in The Trouble with Prince Charming.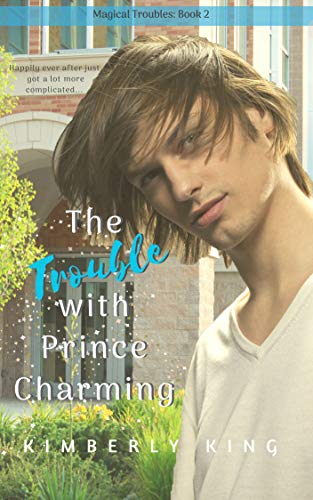 Kimberly King, author of The Trouble with Fairy Godmothers, has added to the Magical Troubles Collection with book two: The Trouble with Prince Charming. It may not have as many spinning wands, but the magical story brought a lot of purple sparkles into my life.
My Thoughts about The Trouble with Prince Charming
Usually, when I review middle-grade books, I have children in mind, and I try to read through with their perspective. But when King asked if I wanted to review The Trouble with Prince Charming, I said yes for me. If you can't tell, I wasn't disappointed.
King wraps this fun story together with such incredible humor; I hardly stopped laughing. Perhaps walking down memory lane caused some of that, but most of it came from her writing abilities.
The story isn't exactly new. An average girl has snagged Prince Charming and still struggles to fit in. When she does (if she truly does), she looks back at her life and realizes what it's really all about. It's a coming of age book set in a humorous background where fair godmothers exist. Who doesn't love this trope?
In The Trouble with Prince Charming, Nikki's godmother only makes a couple of appearances, but she's there when Nikki needs her. I liked it this way. After all, the story of her fairy godmother is over. This story is about Nikki and the boy. What makes Prince Charming Prince Charming, anyway?
Squeaky clean, this is a book I highly recommend to everyone. If you don't generally pick up indie books and pass by this one, you're missing out. The Trouble with Prince Charming comes with a best-seller quality and an indie price tag!
The Official Blurb
Sixteen-year-old Nikki Baker finally has everything she's always wanted: confidence, popularity, and the hottest guy at Forest Hills High. Thanks to her fairy godmother's help, happily ever after is hers for the taking. But being at the top of the food chain is a dangerous place to be. Gossip, lies and betrayal lurk at every corner while she struggles, holding onto a boyfriend everyone wants for themselves. Expectations run high with a guy who's used to getting what he wants, but Nikki's not so sure she's ready to meet his demands. She must decide whether to trust her own heart, or rely on the fairy godmother who got her there in the first place.
More Info
Purchase The Trouble with Prince Charming for Kindle or in print on Amazon, or read it on Kindle Unlimited.
Follow Kimberly King on Facebook
I received a copy of this book for free in exchange for my honest review. All opinions are my own.
Please follow and like us: