Guest Post: Contemporary Holiday Romances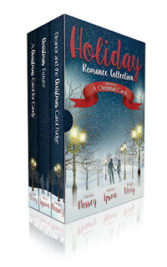 Enjoy this guest post by Peggy Urry, who has some fantastic books to tell you about as we approach this Christmas season!
Contemporary Holiday Romances
The holidays are coming. Thanksgiving, Black Friday, Cyber Monday and DECEMBER are right around the corner. I've already started shopping. What about you?
Do you need a way to embrace the season? Or a gift for the Hallmark lover in your life? Or how about something for that difficult-to-buy-for person?
Well, you're in luck. I've teamed up with two fabulous authors for the Holiday Romance Collection. This ebook box set contains three full-length contemporary romances inspired by Charles Dickens' A Christmas Carol. The novels are available individually in several formats but the best deal is the ebook collection which contains all three.
Eleanor is saving her grandmother's fudge business but is becoming like Scrooge in the process. The consultant she hires to help happens to be the friend from high school that hasn't given up his crush for her. Will the Christmas spirit melt her heart or will she miss out on the love of her life?
While Scarlett Ambrose works her PR magic landing Alaska on the nice Christmas spirit list, her wedding plans and a longing for Arizona's heat have to wait. But when the wait's too long will a warm-hearted doctor in town for his own reasons be just the prescription for lifting her cold, Scrooge-like spirit?
Candy Kaine exchanges a philandering fiance for college. School and a small town community save her from facing the past. In the fast-paced city, Jace Marlowe takes the only job offered since an ugly breakup: web design for a posh resort. The resort plans to buy Janssen Manor, home of the satellite campus located in Jace's small hometown. Will Past, Present, and Future experience help Candy overcome her challenges? Can Jace find a solution before he loses what is most important?
A huge thanks to SageFoxDesigns for my cover. I think it's perfect! (you can also find her on FB and Instagram)
Please follow and like us: