Book Review: ZARA by Aureola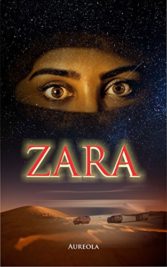 Young childhood as a refugee, human trafficking, and drugs wreak havoc in Aisha's life. Human kindness and love come only small doses, leaving her with a soul tormented by abuses. But an end to suffering awaits if she can overcome the hardships driving her life.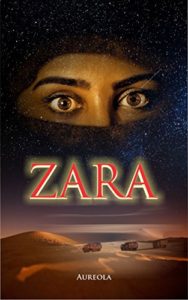 Author, Aureola, takes us on a journey most of us cannot fathom. Those who can, wish they couldn't. Her novel, ZARA, explores a world where abuse by one's spouse isn't only commonplace, but legal, where refugees run from criminals and their abusers, and young children are sold as slaves.
My Thoughts About ZARA:
Understanding the depths of terror that abound in the world can only come as we experience it ourselves. But a glimpse through a fictional story can help us recognize atrocities, hopefully, so we can change them. Just as Uncle Tom's Cabin helped loosen the bonds of slavery in the United States, ZARA works to loosen the bonds placed on women and children by those who seek power over them. Aureola does this by highlighting the atrocities of spousal abuse and human trafficking.
Much of the story takes place through the eyes of Aisha, a young girl who lives through the cycle of abuse time and time again. The love of those in her same position carries her through the very torments of hell. Though she wishes to escape, as is true for many, escape isn't always possible. There are pockets of happiness and hope, but much of the book shows how Aisha survives. The survival that comes through her strength and the hands of others causes readers to cheer from the bottom of their hearts.
This story is not written by an American, so you can expect some differences in spelling and punctuation—specifically when it comes to commas and periods found outside quotation marks, which is considered correct in British English. There are also some formatting issues in the ebook that the author is currently working to fix, as well as minor grammatical errors. Some confusion may arise as the author switches from one character's point of view to another.
I, personally, feel the author handled such volatile subjects well. Though dark subjects line each page, gruesome violence and unnecessary descriptions do not, neither does nudity, sexual acts, or other inappropriate expressions. I struggle some with the end of the book, though it is a happy ending, how happiness is discovered, leaves me disconcerted. However, I do believe the ending to be realistic.
Overall, I cautiously recommend this book. It has the propensity to help readers understand some of the complexities women and children in the world may experience and will open eyes to harsh realities while shielding them from debilitating anguish.
Official Blurb:
"I am Zara… and I know what it means to live in terror for my life…"
Born into an existence in which life and death walk hand in hand, abuse and an impending war throw Zara into a fight for survival in a dystopian society ravaged by insurgents and run by drug lords, arms dealers as well as prostitution rings. With her innocence destroyed, she survives by building a façade that sells a lie to the world. But when this is stripped away, she is left with one choice: a final end, a final silence… even at the cost of her life.
More Info:
Purchase your copy of ZARA on Amazon.
Follow Aureola on Goodreads.
Read more reviews, flash fiction, and fun at KameoMonson.com, and don't forget to grab your FREE downloadable copy of Sometimes A Bird Has to Fly!
I received a free copy of this book for review. All opinions are my own.
Please follow and like us: