Eat Cheeseburgers: An Essay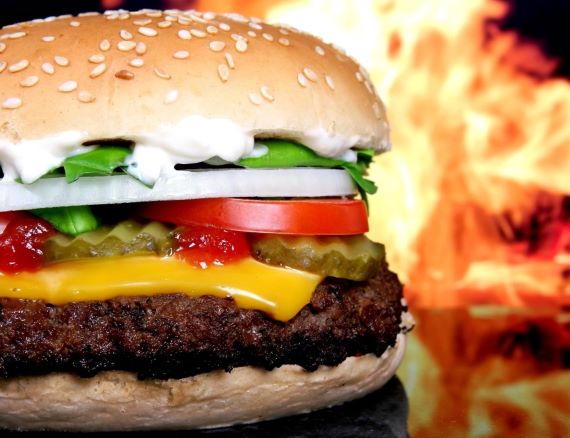 I had fun writing this essay with my son.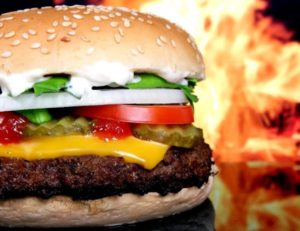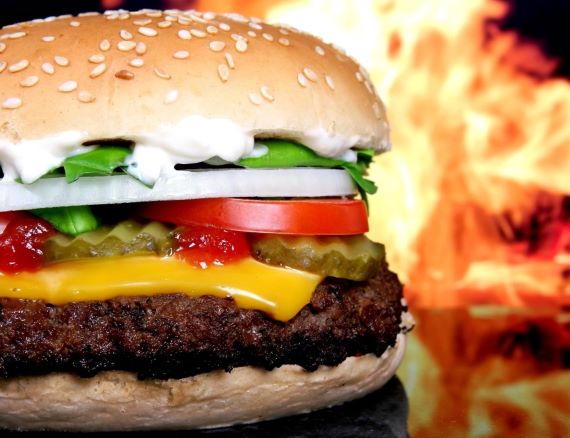 Hamburgers and cheeseburgers are part of the American way of life. Families across the country enjoy socializing and grilling burgers in their backyards or at the park. Visit the city, and you'll see several restaurants that sell burgers lining the streets. We know why. It's that juicy piece of ground beef slathered in cheese and ketchup with a slice of bacon or two calling our names: Jimmy, Tommy, Susie. That satisfying bite of bread with the perfect bacon-y crunch filling our mouths, the delicious flavor of a beautifully cooked beef patty with creamy cheddar, pepper jack, or Monterey jack cheese can bring us to our knees, especially if we wait too long to indulge. Some people like their burgers with lettuce and tomato, maybe a pickle or two, adding the perfect balance of cool crispness to the warm meat promising juicy, beefy wonderment.  Though many believe differently, we all need to eat at least one cheeseburger a week.
Now that we've established that cheeseburgers taste good, (All of you can almost taste that juicy beef, right?) let me give you two more reasons why we all need to eat a genuine, fully-authentic cheeseburger, in all its beefy glory at least once a week.
First, iron. Red meat is a great source of iron. In fact, it's such a great source, both Healthline.com and the Red Cross discuss beef as a way to increase your iron levels. Healthline.com's Franziska Spritzler, a nutrition and dietitian expert, states, "Red meat is satisfying and nutritious. A 3.5-ounce (100-gram) serving of ground beef contains 2.7 mg of iron, which is 15% of the RDI." (Spritzler) RDI stands for recommended daily intake. Basically, Franziska is telling us to eat at least a quarter-pounder a week. The day we do that, we meet roughly 15% of our recommended daily intake in a single sitting! Imagine eating that double quarter-pounder. Come on, I know you want it! 30% RDI here we come!
The Red Cross, takers of our rich, iron-filled blood, wants us to know that meats such as beef, fish, and poultry are rich in heme iron. About 30% of the heme iron, which comes from meat, is absorbed fast! Compare that rate to the rate of non-heme iron's 2–10% that we absorb from nuts and dark green veggies, and…well, grab that burger!  (American Red Cross)
Still, there's that other reason we should eat a cheeseburger a week. How many of you crave incredible cheeseburgers in all their beefy goodness, but try to avoid them because you feel like you'll lose control? Maybe eat one a day instead of one a week? Worse? Does anyone eat more than one a day? This is information you won't want to ignore: scheduling a time to give in to your cravings helps you eat healthier! Sounds crazy, right? I know. But it isn't. EatRight.com says, "A balanced eating plan that allows foods you enjoy — even high-fat, high-calorie foods — will be easier to maintain since you aren't eliminating those foods outright from your life." (Wolfram) When you eliminate the food you crave completely, those cravings become overwhelming. And if you give into them, watch out — you'll become an overeating cheeseburger monster…the Hamburglar. We don't want that, so schedule that cheeseburger craving. That's what Gramma Jo did.
Who is Gramma Jo? Gramma Jo is perhaps the single, best grandmother anyone could have. Why? Lots of reasons, but mostly because she adopted Saturday night cheeseburgers. That's right, my mother grew up eating a cheeseburger every single Saturday. Most of the time, they grilled them on the grill in the backyard, but after an especially exhausting Saturday on the lake, the whole family could usually be found at a local hamburger eatery. Better yet, Gramma Jo serves cheeseburgers every Christmas Eve. She understands the necessity of feeding the craving instead of the Hamburglar.
People against eating burgers will tell you they're unhealthy. We've already proven they have a nutritional value when eaten occasionally as opposed to daily. However, there are still people who believe eating beef does a disservice to a cow. You're killing it — that's true. But, keep in mind, these cows are raised for the specific purpose of feeding hungry American teenagers. Now, if you worry about the treatment of the cow while it's alive, don't. You have a choice in the type of ground beef you purchase. Companies like the Arizona Grass Fed Beef Co. raise their cattle on free ranges with cowboys, just like in the olden days. Those cows are happy eating grasses, bushes, and the occasional flower right off the plain. They get more than that, too, they can enjoy the sun, the light breeze, and as much romping space and water as they can handle. When the trip to the slaughterhouse comes, cows trot in and death comes quickly, causing no pain. (Arizona Grass Raised Beef Co.) Another consideration, if you want that heme iron, something's going to die, so you can choose — chicken, turkey, fish…cow.
Other than religious reasons, what shouldn't you eat a cheeseburger once a week? Don't believe the naysayers. Give in to what you know is right, be like Gramma Jo, grill it, fry it, buy it, however you get it, eat it. Eat a big, delicious, juicy cheeseburger topped with bacon and crisp veggies at least once a week. Relish the juicy flavor. Revel in its goodness. Get that important heme iron (that is so necessary for your health) straight from the steer. Something was going to die anyway. Feel the iron flow through your blood, pumping up your hemoglobin, rushing oxygen to your brain, heart, and stomach. You deserve it, we all do.
Laughter and social media shares are always appreciated!
Disclaimer: This is not an ad. I received no compensation. Hopefully, you know this is intended as humor.

Bibliography:

American Red Cross. n.d. 25 October 2018 <https://www.redcrossblood.org/donate-blood/blood-donation-process/before-during-after/iron-blood-donation/iron-rich-foods.html>.

Arizona Grass Raised Beef Co. n.d. 25 October 2018 <https://azgrassraisedbeef.com/>.

Spritzler, Franziska. 11 Healthy Foods That Are Very High in Iron. 18 July 2018. 25 October 2018 <https://www.healthline.com/nutrition/11-healthy-iron-rich-foods#section1>.

Wolfram, reviewed by Taylor. eat right Academy of Nutrition and Dietetics. 13 February 2018. 25 October 2018 <https://www.eatright.org/health/weight-loss/tips-for-weight-loss/how-to-handle-food-cravings>.
Please follow and like us: