The Lake Turned Upside Down: A Book Review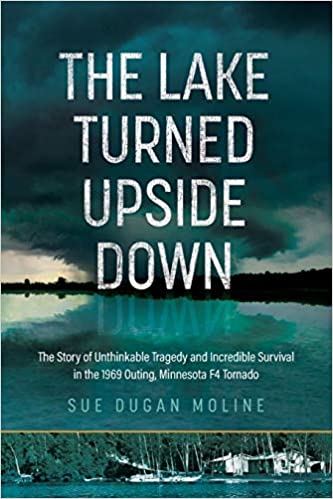 Twelve people dead after an F4 tornado ripped a thirty-eight-mile swath through Minnesota. Learn more in The Lake Turned Upside Down. A true account of the 1969 Outing Tornado.
Author of The Lake Upside Down Sue Dugan Moline found herself along with her family and a Bethany Resort cabin battered and drowning in Roosevelt Lake near Outing Minnesota in 1969. Fifty years later, she published the pieced-together story of the terrifying event that sent 12 people to their deaths and dozens more to the hospital.
My Thoughts about The Lake Turned Upside Down
Father's water-skiing accident: more than two hundred stitches required
Childhood car accident: five out of six hospitalized; two in serious condition; three with life-time injuries
House fire: family misplaced for six months
Those are the main traumas I experienced while living under my parents' roof. "Fun" most definitely isn't the word I'd use to describe them. In fact, for years after my family's car accident, I struggled with flashes and memories from the scene. I was the one not hospitalized. The one who walked away.
Memories of such terrible events easily bring tears. Some bring nightmares. But it is through those memories that we begin to see the light of healing and the beauty of God's hand in our lives. That's the message Moline brings us in The Lake Turned Upside Down.
Moline pieced together snippets of memories from survivors.
Moline took the survivors' memories of August 6, 1969, and recreated what happened. No one had spoken of the event for decades. Then, a half-century later, they cried together.
The Lake Turned Upside Down gives readers a glimpse into the physical and emotional tolls this particular trauma caused. Two full cabins dropped into a lake. The bottom of the lake seen by at least three witnesses. Memories of frantically swimming, hoping to reach air…
It is was a horrendous event that I cannot fathom surviving. But most did. In a matter of days following the tornado, Moline attended a funeral for seven of her family members and friends. One funeral, attended by more than a thousand people. Impersonal.
But, as bad as it was, Moline and the other survivors have been able to see the hand of God. His hand in their survival, but also in the preparation of those who died.
The book reads like a memoir and is filled with information about the 1969 Northwoods Tornado Outbreak. I'd never heard of it; you probably haven't either. But I'm glad I know of it now. Instead of a story of death, grief, and loss, it is a story of healing. One I easily recommend.
The Official Blurb:
August 6, 1969 became the fifth deadliest day in Minnesota tornado history, killing a total of fifteen people state-wide. Eleven of the fifteen deaths occurred on the east and west shores of Roosevelt Lake at 4:55 p.m. in the tiny town of Outing. There had been no warnings.
Dozens of cabins, resorts, and vacation homes sat in the path of the F4 tornado as it blew through the Outing area, affecting countless lives for decades to come. More unbelievable than the tragedy of those who died is the miracle that anyone survived at all.
The Lake Turned Upside Down is the most comprehensive account of the event to date, compiling news reports, pictures, movies, weather records, and over one hundred testimonies from survivors, first responders, and eyewitnesses. This moving book shares the stories that have been burned on the hearts of the families in Outing that day—their lives, their unbelievable survival, and even how seven of the tornado's victims had been preparing for heaven just weeks beforehand.
The National Weather Service called it the Northwoods Tornado Outbreak. The author calls it a miracle that anyone lived as the cabin she was in with 17 occupants was blown into deep Roosevelt Lake. Sue Dugan Moline shares the drama and hope in a tragedy that has been tucked away until now. After a half-century, it is time to pass on the memories that refused to be silenced.
More Info
Purchase your copy of The Lake Turned Upside Down on Amazon.
Follow Sue Dugan Moline on Facebook, Instagram, Goodreads, and duganbooks.com.
I received a copy of this book in exchange for a review. All opinions are my own.
Read more book reviews on KameoMonson.com.
Please follow and like us: