Flicker of the Flame: A Book Review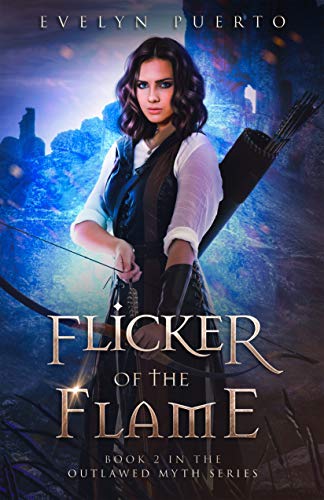 Tereka wants nothing more than to live her life as a trader, but secrets, lies, and a prophesy make living nearly impossible in Flicker of the Flame.
Readers of epic fantasy can now enjoy Flicker of the Flame, the second book in the epic fantasy series The Outlawed Myth by Evelyn Puerto.
My Thoughts on Flicker of the Flame
I couldn't have been more excited when Evelyn Puerto offered me an advanced copy of Flicker of the Flame. Thanks to Puerto's excellent world-building skills, I spent several months thinking of Iskra and Xico, the main characters in Flight of the Spark (book one of the Outlawed Myth Series). Ruled by fear, in both books, the government decides what is safe and fair. Perhaps, like me, you've questioned the possible miseries a life without freedom would impart. Puerto gives us a pretty good idea, and her world brings about plenty for us to consider.
In the Outlawed Myth series, the government rules over what people wear, how they work, how they speak, and how they think. The main character, Tereka, like all traders, can be punished for protecting herself from those who want to hurt her. And there seem to be a lot of those people. But, like all good fantasy heroes, she fights back.
As with most books, this one has a plethora of themes. Loyalty stood out to me. Through various scenes, readers discover supporting characters who prove their loyalty, while other characters' loyalty is brought into question. Readers also follow Tereka as she gains loyalty in situations that seem impossible. I expect this theme to grow through book three as destiny tests Tereka's newfound faith even more.
Flicker of the Flame does deal with some adult topics, but does so in an appropriate way.
Official Blurb:
An ancient prophecy, now an outlawed myth. Secrets, long kept, that can kill. A young girl who was never meant to be born.
Tereka Sabidur's life has never been fair. Her brothers always went unpunished while she was mocked and abused. When her mother's rages escalate into violence, the truth of Tereka's parentage is revealed, and Tereka and her father end up on the street.
Undaunted, Tereka seeks to put her shattered life back together. But she soon learns everything she believed about herself, her family and her world was a lie. Between a cryptic prophecy, three magic amulets, and those who seek to murder her, she becomes embroiled in a fight for her life.
As the threats against Tereka mount, she unlocks the mysteries surrounding her birth, she is faced with an impossible choice.
Will she embrace the scandalous truth—and her impossible destiny—before the secrets of her past destroy her?
More Info
Purchase your copy of Flicker of the Flame on Amazon.
Follow Evelyn Puerto on her website, Facebook, Twitter, and Goodreads
Learn more about Flight of the Spark: Outlawed Myth Book One by reading my review.
I received a free copy of this book in exchange for this review. All opinion are honest and my own.
Please follow and like us: