The Last Monster Hunter: A Book Review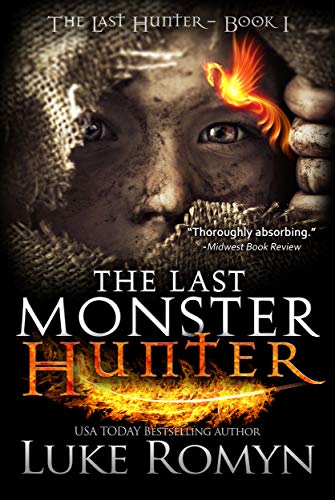 Australian Author, Luke Romyn is listed as a USA Today and Amazon bestselling author. So, it's no surprise that his recently published book, the Last Monster Hunter, has plenty to offer the middle-grade fantasy world.
My Thoughts about The Last Monster Hunter
Fantasy is the epitome of imagination. It rewrites physics, life and death, and everything in between. Writing it terrifies me. Reading it, however, brings me an enormous amount of joy–at least when it is done well. And Romyn does it well. Considering the accolades he has received, that shouldn't be surprising.
Obviously, I gave the Last Monster Hunter a shot… I almost didn't.
I've mentioned the fantasy saturation problem more than once. The magic of the genre attracts most writers, but that doesn't mean they should all write it. I've learned that titles can say a lot about what lies within the pages. The word "monsters" usually sends up red flags for me, but feeling benevolent or bored or in need of reading material, I decided to at least preview the Last Monster Hunter using the look inside feature on Amazon.
I'm glad I did. I'm not fond of the title, but the first few lines of the book proved that Romyn knows how to create a written visual. His hook was pretty good too!
The Good
The Last Monster Hunter begins with twelve-year-old Theo, a smiling bedroom wall, and a mysterious doorway. The engaging writing pulled me right in, as did the idea that a twelve-year-old boy wasn't frightened of such things. As the story continued, I found myself wanting to spend more time withing its pages. As is common with many fantasy series, the Last Monster Hunter is an introductory book–the book Romyn uses to build the kingdom; introduce characters; and create, or start creating, a hero.
He does this well. Readers learn about the main villain, the Orc King, as well as the basics of what a hunter does. As a reader who prefers figuring out what makes characters tick instead of having personalities handed to me, I appreciated the way the definition of a hunter isn't spelled out. Not once does Romyn drone-on past a very basic explanation. However, he does show us through Theo's actions.
The Last Monster Hunter is a middle-grade fantasy, and the characters' development fits within that genre and age group. Adults shouldn't read the book and expect supporting characters to round out as pages expose their strengths and weaknesses in layers. Not yet, anyway. They should read the book expecting a solid foundation to be laid as Theo grows up. This is great, because, while adults can enjoy the Last Monster Hunter, Romyn succeeded in writing a book at a level appropriate for the age group he strove to entertain. That's a big plus.
The Okay
Nothing about the Last Monster Hunter struck me as bad. It also didn't strike me as unique.
Theo, a boy unknowingly born to magical parents, finds himself whisked into an unknown world—saved from a sad existence with his horrid aunt and uncle. In an alley, he learns a little more about himself as he starts a new journey. After some time, he rides in a flying carriage to a school for hunters. He also discovers that his father was a hero and that others expect him to be as well. The list continues…
While the stories remain different, there are several surface similarities between the Last Monster Hunter and Harry Potter. Wonderful! If you love stories similar to Harry Potter. Not quite so great if you're looking for a new way to experience fantasy.
That shouldn't take away from the author's creation. Many readers, especially young readers, search specifically for books similar to their favorites.
Romyn also uses similes to help build visuals for the reader. I, personally, prefer fewer than he includes. As the number of similies crept up on me, they became somewhat of a distraction. That said, the use of literary devices is highly subjective. So, what bothers me may not bother you and probably will not be noticed by a child.
The Last Monster Hunter Official Blurb
Theodore Beckett knows nothing of magic until his bedroom wall smiles…
… and then tries to kill him.
Doors to a whole new world suddenly crash open for Theo, a world filled with monsters, magicians, and dragons. His role in this secret society slowly unfolds when Theo learns he is the son of its lost hero. The man who defeated the Orc King. Elijah Dros.
A new war looms, and Theo realizes his introduction might not be a coincidence. He may well be the last Hunter. But with nobody to teach him, how will Theo ever learn to protect himself, let alone others?
More Info
Purchase your copy of the Last Monster Hunter on Amazon.
Follow Luke Romyn on Facebook, Twitter, YouTube, Goodreads, and LukeRomyn.com
I received a copy of this book for free in exchange for my honest review. All opinions are my own.

Please follow and like us: