Where Hope is Found: A Book Review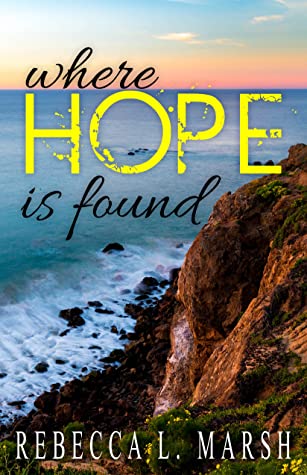 Rebecca L. Marsh, author of three women's fiction novels, including Where Hope is Found, brings us wonderful stories about overcoming life's trauma and the second chances that wait right around the corner.
My Thoughts on Where Hope is Found
What's your worst fear in life? We've each been asked the daunting question since childhood. For a long time, people laughed at my answer: ants.
It's true. Ants scare me. Though I'm doing much better now than I did in the past. And, really, being scared of ants is more of a phobia. Myrmecophobia, to be exact. I didn't develop my true greatest fear until adulthood.
Losing my husband.
I'm a religious person. The Church of Jesus Christ of Latter-day Saints teaches that families are eternal. If I lose my husband in this life, I can be with him again in the next.
But what about the rest of this life? With faith, I know everything will work out. And I don't doubt it, but when someone asks me what I'm most scared of in life. That's my answer. Losing my husband.
In Where Hope is Found, Marsh explores one of the many possibilities that can happen when a person has no choice but to face their greatest fear.
The Good
I read Where Hope Is Found as a beta reader, and then read the finished product as well. Generally, when I reread a book, I like to space it out a little bit more. However, rereading this novel twice in a short amount of time didn't bother me at all. Besides, it's always nice to see how a story has grown through the writing process.
Where Hope is Found deals with some hard subject matter, including mental illness, in tasteful and appropriate ways. Instead of a main character who suddenly discovers herself healed from a trauma-induced mental illness, Marsh shows the long-term aspect, while providing the character and readers with the hope they want and deserve.
I have enjoyed reading Marsh's other books, but Where Hope is Found shows tremendous growth in her writing and exhibits a skill not all indie authors have. The book is well-researched and free from error. While the book deals with serious and adult subject matter, it was not offensive to me and, in my opinion, is appropriate for older teenagers as well as adults.
The Official Blurb
One tiny moment in time can shatter your whole world.
A family beach vacation turns to tragedy and Marissa must find a way for her and her traumatized eight-year-old daughter, Maisy, to move forward and heal. But memories of what she lost surround her, threatening to take her to a dark place; a place she can never go again.
When her brother extends an invitation for her and Maisy to move in with him on Princess Island, Marissa thinks it might just be the fresh start she needs. But can she really find hope and healing on an island surrounded by the same ocean that broke her heart?
More info
Where Hope Is Found will be available on October 15, 2020, on Amazon.
Follow Rebecca Marsh on Facebook, GoodReads, and RebeccaLMarsh.com.
I received a copy of this book for free in exchange of a review. All opinions are honest and my own.

Please follow and like us: