Totally Yours: A Book Review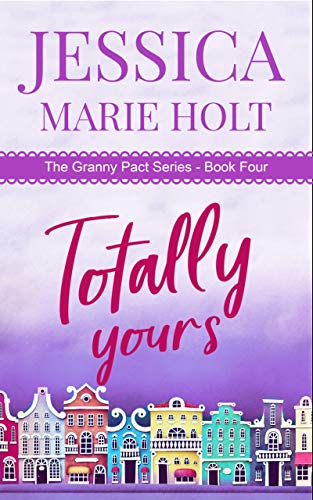 The grannies June and Ellie, owners and operators of Match Mavens and the creation of Jessica Marie Holt, are back in Totally Yours, book four in the Granny Pact Collection. If you weren't sure at the end of book three…it's Mitch's turn.
My Thoughts about Totally Yours
Do you ever look at a dating couple and think, so wrong. Have you wondered why a friend continues to date someone when it's obvious they're miserable? What about a family member who is one step away from getting engaged? Do you ask "have you thought this through?"
That's the situation June finds herself in, and it only gets worse when Sarah asks her to fix her father's (June's son) love life. Talk about a promising foot-in-mouth situation. And that's exactly what June's worried about!
Such situations usually come with frustration and anger. And that's true here too, but as a rom-com Totally Yours still has readers laughing over humorous quips and fun situations. Oh, and a little more Chilian fun!
Holt keeps this series hopping with so many fun scenarios that I jumped when I saw she'd written another one. Of course, as funny as Totally Yours is, she didn't write unreal characters. Each one comes with real strengths and weaknesses. They yearn for a love that flows easily. Yet, every one of them understands that relationships take work.
But can a willingness to work on a relationship causes problems? Don't worry, Holt tackles this serious topic without bogging down the story. She's created what we all want. Totally Yours is a light-hearted romance, filled with hope. Who doesn't love that?
As with the rest of this collection, I adored this book. Wholesome, easy-to-read, and funny beyond words, Totally Yours is totally awesome.
The Official Blurb
The Match Mavens are back, and this time, it's personal!
June and Ellie are committed to helping the lonely find happiness.
But what about the not-so-lonely?
Unable to say no to a beloved granddaughter in distress, June has reluctantly agreed to help Sarah save her father from the terrible fate of marrying the wrong woman. The problem? June isn't convinced that Janet is all wrong for Mitch. And even if she is, interfering in Mitch's love life will put June at serious risk of destroying her already-fragile relationship with her beloved son.
What's a matchmaker to do?
Well, plenty, if Ellie has anything to say about it.
But can the grannies really help Mitch find true happiness, without tearing Junes' family apart?
More Info
Purchase your copy of Totally Yours on Amazon.
Follow Jessica Marie Holt on Facebook , Twitter, & Goodreads
Read my reviews of the other books in the Granny Pact Collection.
Reluctantly Yours
Accidentally Yours
Surprisingly Yours
I received a copy of this book for free in exchange for this review. All opinions are my own.
Please follow and like us: