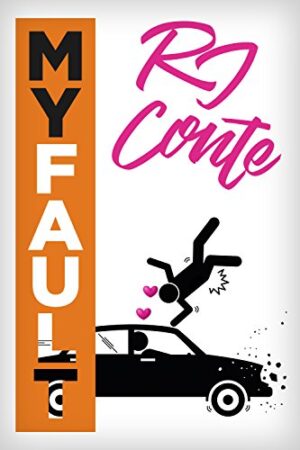 RJ Conte may have written nine novels, but she's only kissed one boy, and she married him! Perhaps that's what leads her to write such entertaining love stories as My Fault. This humorous love story takes readers into the mind of Cleo Stanton, who after 30 days in the clink, wants nothing more than to make it up to the guy she ran over with her car.
My Thoughts on My Fault
Cleo Stanton is the type of character you love to watch annoy others. The sweetest, quirkiest gal who has absolutely no clue about social graces. The girl in the back of your college English class who dressed in loud, mismatched clothing and talked her neighbor's ear off but still managed to know all the answers, has nothing on Cleo. Nothing.
She rambles. Rambles in text messages. Rambles out loud and in her mind. Nothing stops her. But I found I didn't mind. Her rambling made my nights more enjoyable. I laughed. My husband looked at me funny, and I laughed some more.
Cleo knows how to connect topics too. Wombats, head-babies, and uvulas all come into play, and even though I don't dress like Cleo or talk like Cleo, somehow, I relate to Cleo.
My Fault is filled with humor, page after page of it, and most doesn't come from unusual situations, but from the thoughts running through Cleo's head. They're fantastic! But it's not all humor. Toward the end, RJ Conte takes the story through a twisty tunnel and a couple of serious topics appear. Don't worry, she tackles them with grace and brings the story together stupendously.
As a Christian rom-com story, you know God comes up. Cleo has a knack for praying. I'd consider it irreverent, but knowing Cleo as I do, for her, it's classic. Besides, God may not be fictional, but Cleo is. More importantly, we see where God's hand plays a part in Cleo and Grayson's lives and, hopefully, can relate to such miracles ourselves.
This short book will have you laughing and maybe crying. Maybe both. Either way, I'm certain you'll love Cleo as much as I do.
Official Blurb
"I realized his eyes had lost that wary look. They were the bluest blue. Bluer than my favorite coffee mug. Bluer than the Solonaise County Public Pool when it's actually been cleaned at the beginning of the summer before all those little kids in their floaties come and pee in it."
Quirky Cleo Stanton has a problem: she's falling for the guy she ran over with her car when she should not have been driving.
A devout Christian and quietly mysterious, Grayson Fox is as cute as he is kind, begrudgingly putting up with Cleo and her motor mouth. But will he ever forgive her for crushing his leg? Can she break him out of his shell? And what hilarity will ensue when the flamboyant Cleo tries to draw him out?
More Info
Purchase your copy of My Fault on Amazon
Follow RJ Conte at Blonde RJ, her blog
Facebook
Twitter
Instagram
Goodreads

Please follow and like us: