Book Review: The Stationmaster's Cottage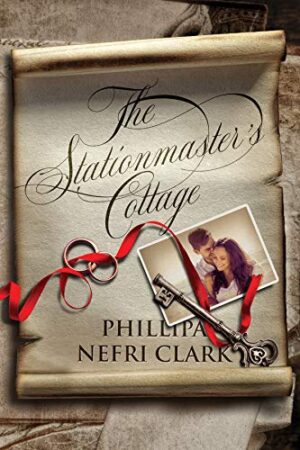 Phillipa Nefri Clark, an Australian author of women's fiction, released a new edition of The Stationmaster's Cottage in April. Newly edited, this novel from the River's End series stands alone with ease and brings to life characters from two generations with overlapping love stories.
My Thoughts on The Stationmaster's Cottage
We look at our families and their histories and wonder at our ancestors' lives. How did they live? Were they happy? Are there aunts or uncles we know nothing about? What about cousins? As we dive into boxes left behind and find pictures, documents, and keepsakes we know nothing about, mysteries unfold before our eyes. Can we put aside those mysteries? When I discovered my own family history mystery, I couldn't, and neither can Christie.
Christie Ryan finds her own family history mystery, and it's a doozy! Moreover, it seems to include the moody artist that lives on the beach. Add to that a fiance that asks her to spend more time with him, and then seems interested in everything but her, and the story of the stationmaster's cottage lines up.
It sounds like a romance, but there is plenty more to this novel. Christie struggles to find herself and determine what she really wants in life. She also finds herself yearning for more information about the great-aunt no one told her about. In the meantime, she deals with contradicting emotions over Gran's death.
This book is written exceptionally well. The characters come to life and draw you in. Where one-dimensional characters are often used by authors, Clark adds just the right amount of dimension.
The Stationmaster's Cottage is easy to recommend and is a book you're sure to love.
Official Blurb
"There are secrets in that cottage. Questions needing answers."
Those words gave Christie Ryan a reason to stay in River's End, when she should have gone home after Gran's funeral. Inheriting a rundown cottage, far from her jet-setting life, she is drawn into a fifty-year-old mystery.
Who wrote the letters hidden in the attic, an outpouring of love to a woman Christie suspects she is related to? What is the significance of a damaged painting kept by Gran but clearly painted in this seaside town?
Local artist Martin Blake may have the answers she seeks, but refuses to help. His dog adores Christie, but Martin keeps his feelings locked away.
As Christie faces difficult decisions about her own future, will the consequences of righting old wrongs be too high a price to pay?
More Info
Purchase your copy of The Stationmaster's Cottage on Amazon.
Follow her on:
Facebook
Twitter
Goodreads
Her website
Please follow and like us: