Book Review: The Rift Between Us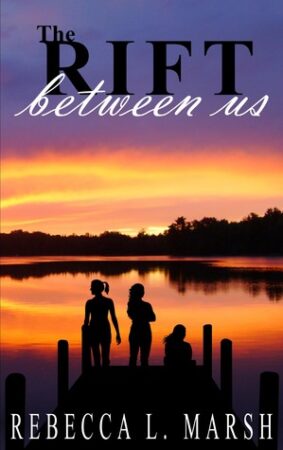 Rebecca L. Marsh, author of When the Storm Ends, now gives fans a second novel: The Rift Between Us. Another wonderful women's fiction piece, none of my followers will want to miss this great story, filled with life-like characters and real-life problems.
My Thoughts on The Rift Between Us
We look across the auditoriums, restaurants, and church pews at all the people who have life figured out and wonder what's wrong with us. We've gained so much weight our shoes don't fit, our kids fight nonstop, and the dog has yet to find the patch of grass in the backyard. When is it our turn? When do we get to live a perfect life? And with each question we ask, we refuse to let anyone in on our secrets. After all, what would they think if they knew the truth?
The preface isn't new. If anything it's timeless. We listen and enjoy stories with such themes because no matter how much we try to remind ourselves that no one has a perfect life, we forget.
Marsh takes this simple theme and builds her story around it. A widowed father of three daughters raised them into adulthood. Unfortunately, as adults, the secrets they keep from each other are too heavy for any one of them to carry alone. They need sisters, but only Dad knows it.
When trying to bring his girls back together in life fails, this dad gives it one more shot after death. If they want their lofty inheritances, they have to fulfill a difficult task.
The climax of The Rift Between Us comes earlier than in most books, and Marsh spends a good amount of time wrapping up the resolution. In most stories, I find a long resolution boring. However, this wasn't the case this time around. It's during the resolution that the characters grow, similar to how we grow in real life. And considering the genre, I find this acceptable and even necessary for this story.
Readers of The Rift Between Us follows the points of view of sisters Maria, Lauren, and Avery. Marsh's exceptional writing brings depth to each woman, as we experience their anger, fears, and passions. Don't be surprised if you find yourself with tears in your eyes searching for a box of tissues. These characters are sure to touch your heart. They sure touched mine.
Official Blurb
After a family dinner turns into a bitter fight, sisters Maria, Lauren, and Avery decide to go their separate ways. Their father warns them that someday they will need one another. When he dies suddenly, they learn that he intends to make sure that they do. He's left them a substantial inheritance, far more than any of them ever imagined.
There's just one catch. If they want the money, they will have to spend two weeks together at a secluded lake house and follow all of their father's instructions—no matter how strange.
Their task seems simple enough, but each one is holding onto painful secrets and old grudges the others know nothing about. But if they can learn to trust each other again, they might be able to mend the rift between them and give their father his dying wish.
More Info:
Watch Amazon for The Rift Between Us. Coming July 2019
Visit Rebecca L. Marsh online:
Website
Facebook
Goodreads
Please follow and like us: