Book Review: Sea of Strangers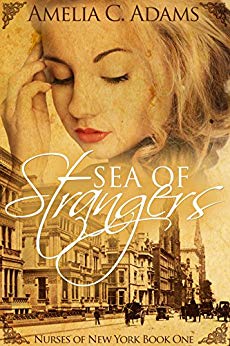 Amelia C. Adams, author of the bestselling Kansas Crossroads series, also brings us the Nurses of New York series. Book one, Sea of Strangers, follows Jeanette from Topeka, Kansas, to New York, where she will study to become a nurse under Dr. Frank Russell, a friend of her fiance Dr. Phillip Wayment.
My Thoughts on Sea of Strangers
Well-researched with perfectly formed sentences and immaculate editing, not to mention a high rating on Amazon, I struggled to pinpoint the reason I didn't connect with Sea of Strangers better.
I've always enjoyed reading historical fiction, especially those that take place in the mid to late 19th century in the United States. Pioneers, the gold rush, early politics, Coal miners, North versus South, it all interests me. I was the middle-schooler who wanted to know the stories of the Oregon Trail characters, especially the banker. I usually connect well with the stories, but this time I felt something was lacking.
I easily dismissed the problem as coming from poor editing or a lack of writing skill. As stated before, the technical aspects of the book were great. But I still found myself wanting to put it down.
In the end, I determined I didn't connect with the characters. To me, they felt flat. Jeanette has no fault. Sadie, her friend, sweetly rambled. It was the same with every character, though, one characteristic, but nothing more.
On top of that, we know nothing about Uncle Rod, the antagonist, except that Jeanette chased him away with a gun at some point not featured in the book. Perhaps that lack of knowledge comes from not reading the Kansas Crossroads series, in which case, more information should have been provided in this series.
The story follows Jeanette, but the action, especially the rise and fall of the plot is minimal. I as read, I continued to feel as if I were listening to a Barbie or Strawberry Shortcake cartoon. The book consists of mostly dialogue, which often comes across as wordy as opposed to natural. I struggled to picture the characters' movements. Even when they were described they seemed stiff or cartoon-like in my mind.
Still, I find value in the book. I know. How can I write such a slanted review and then turn and say I find value? As an adult, this book isn't for me. It doesn't capture my attention. However, a middle grader or early high schooler interested in historical fiction (and I was greatly interested in historical fiction at that age), may find the book has great merit. It's short enough to be read quickly. It has plenty of easily-read dialogue. The action isn't graphic, and there is no swearing. Even more, the end has a great moral to it.
Sometimes we look at books and think only of what they are to us. We can't do that. Most well-written and moral books have a place in society; we just have to find it. I truly believe this is the case with Sea of Strangers. Though I'm unsure, I believe Adams wrote this story with all audiences in mind, but for adults more than children. Nothing on the Amazon or her website deters from that surmisal, but I suggest Sea of Strangers be read by middle graders.
The Official Blurb
Jeanette Peterson left behind the man who loves her to go to nursing school in New York, promising to come back in six months and marry him. His love is the only thing that sees her through the trials ahead. When the time comes to make the toughest decision of all, will she choose justice or mercy out of many shades of gray?
From Amelia C. Adams, bestselling author of the Kansas Crossroads series, comes this novella about one girl's desire to follow her dreams and the man who encourages her from miles away.
More info
Purchase your copy of Sea of Strangers on Amazon.
Follow Amelia C. Adams
Facebook
Pinterest
on her website

Please follow and like us: