Eye for an Eye: A Book Review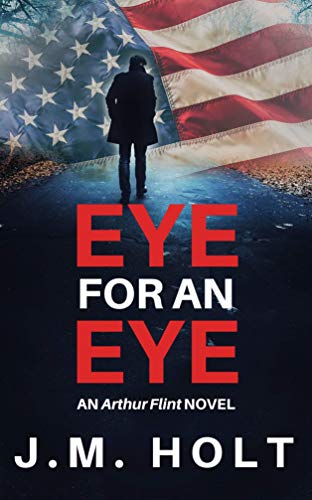 A sleepy little town with mysteries like Who stole grandma's Social Security check? is exactly what Arthur Flint needs. But sometimes, little mysteries become the whole shebang, and Arthur Flint may just find himself in the throes of danger in Eye for an Eye by J.M. Holt.
J.M. Holt, a new name in the world of literature, brings a whole slew of lovable characters for readers to enjoy, and I'll admit it, I looked forward to the release of this book. In fact, I should have added this review to the blog some time ago. But, dearest Holt, I have not forgotten you. Even more, I look forward to the coming of book two in the Arthur Flint Series, whenever that may be.
My Thoughts about Eye for an Eye
I always enjoy a good mystery. That's part of what makes reading fun–never knowing exactly what's going to happen next. Every book has some kind of mystery. But then there are the books built on a mystery. Eye for an Eye fits into that category.
As I mentioned above, I waited for this book to come out. I wanted to see what J.M. Holt imagined. Unlike some spy novels, I never worried that I might run into crude or risque scenes. But I did wonder if it would have the excitment that I look forward to when reading thrilling mysteries. Maybe it would have the cuddly characters of cozy mysteries that I enjoy so much? I wasn't sure if I was looking forward to an action-packed thriller or a fun-loving mystery. In truth, I got a little bit of both.
A Good Mix
Eye for an Eye introduces some pretty lovable characters, including Danger, the dog. But if dogs aren't your thing, then you're sure to find at least one character that makes you laugh or cry or worry that it won't all work out. Maybe it's Arthur, the CIA agent turned P.I. Maybe it's his wife or his newest partner. It might even be the strung-out druggie who helps gather information on the neighborhood lowlifes.
These characters give the story a little bit more of a cozy mystery feel. But the mystery deals with a spy who has gone into hiding and now works in the private sector. He has connections. He gets attacked. He has a gun. And he has to take the bad dudes down or die. In that way, the excitment of a thriller exists between these pages. If you don't like being scared, though, don't worry. As nail-biting as this story is, it won't leave you with nightmares.
Similar in feel to a cozy mystery with a little excitement on the side, I'm pretty sure you'll find that this book has it all. A moral spy, a loving wife, a loyal partner, and perfectly evil bad guys you can't wait to see taken down.
The Official Blurb
Book One in the Arthur Flint Series
When Arthur's black-op mission went disastrously wrong, he made an enemy of a powerful and ruthless criminal kingpin. Marked for death, Arthur and his wife Kate fled, disappearing into an anonymous small-town existence.
Arthur knows it's only a matter of time until they're found, and the strain of constant vigilance is wearing on him. But he's out of chess moves, and until he can come with a plan, he and Kate are forced to be ghosts in their own lives.
By night, Arthur is a history professor at the local community college. By day, he works as a private investigator in the city, using his specialized training to help people solve problems the authorities can't.
When an older woman shows up at his office in desperate need of help, he agrees to take the case. Soon enough, he finds himself embroiled in a one-man crusade against a brutal crime ring that is terrorizing vulnerable people throughout several neighborhoods.
But how deep does the crime ring go?
Can he fight from the shadows and win? Or will he finally decide to face the enemy, and win his life back?
More Info
Purchase your copy of Eye for an Eye on Amazon.
Follow J.M. Holt on Facebook and Goodreads,
Please follow and like us: