Heartless Hette: A Book Review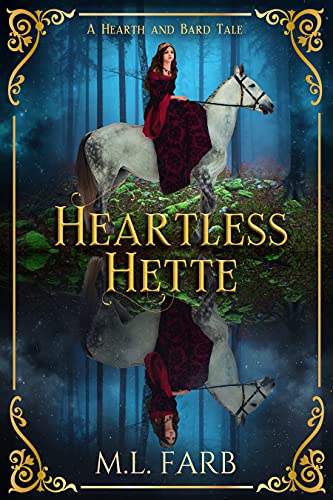 When Princess Hette refuses a sorcerer's marriage proposal, she finds herself with a clockwork heart that leaves her doomed to his control in Heartless Hette.
Author M.L. Farb, a master at weaving inspirational tales as found in Vasilisa and The Fourth Sister, brings us the third book in the Hearth and Bard Tales, Heartless Hette. A story woven with strings of various fairy tales, this novel is sure to please!
My Thoughts on Heartless Hette
What would life become if our emotions put us under the control of another? Would we fight off our emotions to keep control of our freedoms? Would we be free at all?
These are questions Princess Hette must have considered when an evil sorcerer replaced her heart with a clockwork heart.
However, with no intention of giving up her right to the throne due to marriage, a clockwork heart is the least of Hette's concerns, until she realizes that every strong emotion she feels causes her to desperately desire the sorcerer who swears she will accept his marriage proposal.
Hette, accompanied on her quest by the court's fool and a maid, soon finds herself facing several trials of wit as she seeks to take her heart back.
Heartless Hette has quickly become a favorite of mine. Within its pages, Farb has spun a story with a quest, heroes, heroines, and evil-doers. Hidden fairy tale characters await recognition, while new characters tout depth and dimension. Filled with wit, readers discover fun riddles and intelligent methods used by–well, at least one fool.
I thoroughly enjoyed Heartless Hette, which is appropriate for all ages, and even has many hidden lessons children and adults can learn: humility, equality, forgiveness, and more.
Official Blurb
Come to Germania, where a clockwork heart rules and a fool advises–and a laugh can bring both to their knees.
When Princess Hette refuses a sorcerer's proposal, he retaliates by stealing her heart—literally.
Desperate to resist his influence, Hette makes herself emotionless, stifling all feelings until she can find her heart and win it back. Only Konrad, the despised Court Fool, knows where to find the sorcerer, and he has his own curse to battle.
Riddles and magic plague their path, including a memory stealing witch, an unbeatable knight, and a magic book that would as soon drown them as lead them to their destination. Yet, if Hette can't find the sorcerer in time, her heart will be the least of her losses.
More Info
Looking for the perfect holiday gift? Heartless Hette fits the bill for any lover of fairy tales or fantasy.
Purchase your copy of Heartless Hette on Amazon
Follow M.L. Farb on social media and on her website.
I received a copy of Heartless Hette in exchange for this review. All opinions are voluntary and my own.


Read more book reviews at KameoMonson.com.
Please follow and like us: