Sprout Book One by Carolyn Frank: A New Release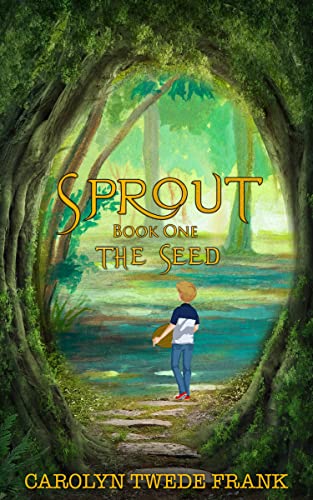 When Pete finds a giant seed hidden in a mysterious crack in the mountainside, he can't wait to sprout it for his science project. But what sprouts isn't quite what he expects, in Sprout Book One: The Seed.
Carolyn Twede Frank, a traditionally published romance author, is branching out! December 1st marks the release of her first independently published middle-grade book, Sprout Book One: The Seed.
My Thoughts on Sprout Book One
I don't review the books I edit. Usually. But I when Carolyn approached me to see if I could help spread the word about her upcoming release of Sprout. I jumped at the chance.
Why?
Because Sprout is more than an entertaining book filled with fantasy and superheroes (and it does have both). It is a book filled with educational opportunities. Science, self-esteem, honesty, and a host of other lessons are taught throughout the story. Even as an adult, I gleaned amazing insights.
As I read Sprout, I laughed through many of the situations Pete, the main character, found himself in. I also had the decency to feel sorry for him on occasion. Watching Sprout, his tree-like, adopted brother, mature also brought a smile to my face. He is one cute kid, and I say that without his super embrace.
Kids of all ages will enjoy this book. Teachers and parents will appreciate the science and social lessons throughout the story as well as the questions found at the back of the book.
With Christmas around the corner, grandparents and parents often find themselves searching for books to share with their families. Sprout offers what every adult wants for their children: a safe, entertaining, and educational read. Perhaps you are looking for a great teacher's gift: this is one I easily recommend.
Official Blurb
A geek, and proud of it, twelve-year-old Pete is determined to win the school science fair in an effort to convince his sports-enthusiast dad into accepting science as a worthwhile endeavor and for once be proud of Pete. Upon discovering a giant seed in the forest, Pete figures he has the grand prize wrapped up in a nutshell. When the seed sprouts into a baby, the science fair is off—no one can know the truth about Pete's newly "adopted" brother, Sprout. Not even his dad. But when Sprout grows at an alarming rate, his skin turns green in the sun, and he exhibits super-hero-like plant powers, Pete fears he won't be able to protect his new brother for long from those who would view Sprout as a threat. To make matters worse, Pete fears his dad likes Sprout more than him.
More Info
Purchase your copy of Sprout Book One: The Seed on Amazon
Though I worked with Carolyn Twede Frank on this project, I receive no monetary or other benefit for this review.

Learn more about my editing services by visiting KameoMonson.com
Please follow and like us: