Happy Singles Awareness Day: A Book Review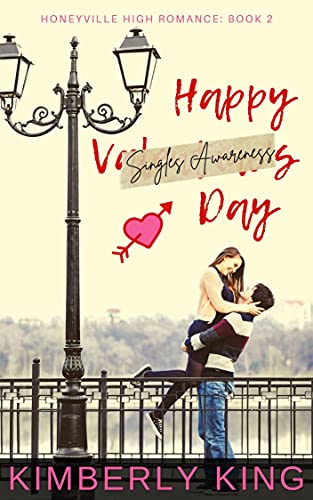 Cheerleader, Carlee, has everything she's ever wanted–until she doesn't, in Happy Singles Awareness Day.
Kimberly King, author of The Magical Troubles series and Lucky in Love, brings us the second book in the Honeyville High Romance Series: Happy Singles Awareness Day. This YA sweet romance is perfect for Christmas and Valentine's Day.
My Thoughts on Happy Singles Awareness Day
Even if you've never heard of a human shark, you know what one is. Like those in the ocean, they circle their prey, waiting for the perfect time to strike, stealing what isn't theirs away from those who love and deserve it… him.
Carlee McAdams knows all about sharks, and she's used to seeing them circle her long-time boyfriend. But she never expected the messy frenzy one shark could cause. This feeding frenzy soon spreads throughout Honeville High and even into her home, attacking her as much as her now ex-boyfriend. And as it does, she has to deal with another shark… the one circling her. Alex Coleman.
As is always the fashion with King's books, plenty of humor and fun resides within the pages of this sweet romance. The truths about respect and love bring the book together. But it is the healing touch King adds to the relationship between her main character, Carlee, and her overbearing, but well-meaning mother. You see, Carlee's mother appears to be nothing more than an unyielding, flat character used to further the story, but readers will find the opposite is true. The story between mother and daughter is as touching as the one between the high school soon-to-be sweethearts.
Official Blurb
Getting dumped right before Valentine's Day is bad enough, but things only get worse for cheerleader Carlee McAdams when an incriminating picture of her lands in the school paper. In the middle of her public, very complicated break-up, someone is desperate to see her fall, and they'll stop at nothing until she hits rock bottom.

Just when life can't get any more messy, ex-model Alex Coleman enters the picture: cute, interested, and totally off-limits. He's everything she doesn't want in a guy, so staying away should be easy. But that proves harder than it looks. The more she gets to know him, the more she starts to question if he's really the guy she thought he was. Can she put her prejudices aside and give him a chance? But before she can decide, the one person she thought she could trust ends up being the one who's about to bring everything down.
More Info
Mothers, daughters, adults, teens, and middle graders will find the sweet romance Happy Singles Awareness Day fits the Christmas and Valentine's Day gift bill. You may even choose to pick it up for yourself!
Purchase your copy of Happy Singles Awareness Day on Amazon
Follow Kimberly King on social media: Facebook Twitter Goodreads
I received a copy of this book in exchange for this review. All opinions are my own. 
Read more of my book reviews at KameoMonson.com.
Please follow and like us: