The Other Mrs. Samson: A Book Review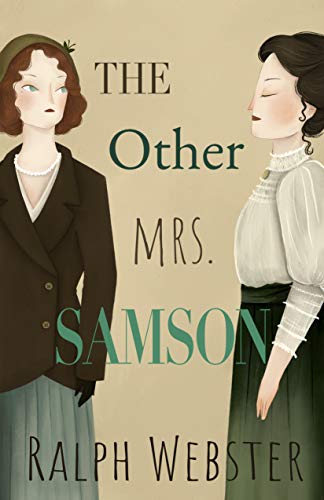 When Ralph dives into the past life of his cherished friend Katie, he discovers untold stories of those who loved her husband, Josef, beyond both World War I and World War II in the Other Mrs. Samson.
Award-winning author Ralph Webster will release his third book the Other Mrs. Samson on February 15, 2021. A dramatized historical biography, and written in similar fashion to a memoir, this book fits well with Webster's other works.
My Thoughts About The Other Mrs. Samson
As a twelve-year-old child, and as part of a goal-setting program, I read the Hiding Place for the first time. Shortly after that, the "old" Disney Channel, the one that played the Mickey Mouse Club in the morning and afternoons and classic movies at night, showcased the 1980s version of the Diary of Anne Frank. That year, my heart was turned toward the stories of those who suffered at the Nazis' hands.
For years, I searched for and read books, non-fiction and fiction alike, that revolved around the Holocaust. I couldn't imagine going through what any European did during that time period, let alone what those sent to concentration camps suffered.
As an adult, I find myself still drawn to that period of time. So, when the opportunity to review the Other Mrs. Samson presented itself, I jumped on it. Two world wars, two wives, and a story of survival? How could I not?
At the beginning of the Other Mrs. Samson, we learn how Ralph met Katie–the older, yet incredible woman who became one of his and his wife's closest friends. But before learning much about Katie, we learn about her husband's first wife, Hilda.
It didn't take long for me to realize the book wouldn't move quickly. But the slow pace never once deterred my desire to learn more about these characters either. I say characters, but I mean people. Hilda, Josef, and Katie were real people as were the other people mentioned. The history, relationships, and turmoil in their lives–all of it is real. True. As the author, Webster took pieces of their history and smoothed them out, making the story flow nicely for those of us who never had the chance to meet Katie.
More than that, he fills us in on secrets that Katie never told a soul until after her death. Even then, she brushed them off as unimportant. But they are important. Important to history, but also important to remember our nature as human beings.
This isn't a typical Holocaust-era story. But like the Hiding Place, it tells a story worth reading. One that highlights life without gun-slinging Nazis or arrogant Allies. One that highlights the tangled love one man had for his wives and the love they shared for him.
The Official Blurb
Surviving two wars, sharing one husband, searching for answers.
A secret compartment in a black lacquer cabinet left in an attic reveals the secrets of two incredible women: Hilda, born and raised in one of the wealthiest Jewish families in turn-of-the-century San Francisco, and Katie, whose early life in Germany is marked by tragedy and death. Their lives are forever entwined by their love of the same man, the brilliant and compassionate Dr. Josef Samson.
From the earliest, rough-and-tumble days of San Francisco, through the devastation of the Great War in Berlin and the terrors of Vichy France, and then to a new yet uncertain life in New York City, their stories span the most tumultuous events of the twentieth century. In the end, one of these women will complete the life of the other and make a startling discovery about the husband they share.
More Info
Purchase your copy of the Other Mrs. Samson on Amazon.
Follow Ralph Webster on Facebook, Twitter, and Goodreads.

I received a copy of this book in exchange for this review. All opinions are my own.

Please follow and like us: