Merrily Yours: A Book Review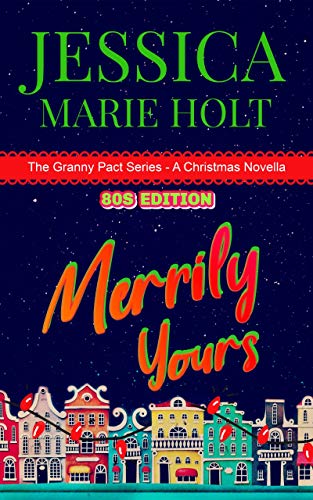 Travel back in time to when Ellie drags June to Jazzercise, and the (yet-to-be) grannies concoct a plan that brings everyone together. Minus one snowman. Merrily Yours: A Christmas Novella by Jessica Marie Holt may not be a romance and may only have one granny, but it fits right in with the totally awesome Grannie Pact Collection.
My Thoughts on Merrily Yours
Several mornings of my childhood started with Mousersize, a TV workout with leotards. dancing, and cartoons. Mickey, Donald, and Goofy were always there too! I'd lay out my towel and occasionally follow the steps while waiting for the cartoon break in the middle.
That, along with headbands, doubled-up socks, and leg warmers, came rushing back in one big swoosh at the description of June's ill-fitting leotard and shiny tights in Merrily Yours. I couldn't stop laughing. Add in mention of Back to the Future, teen Mitch's latest passion, and I was hooked! How could I not be?
But there's plenty more to this book than memories of the eighties. June takes on the world and tackles Jazzercise better than Ellie imagines. On top of that, the yet-to-be grannies take on the crotchety neighbor after he…
Let's just say the fallout snows on everyone. In blizzard fashion, it blankets their husbands and kids, June's daughter's friend and his dad, and even the school teacher. And yet, somehow, it all works out in (yet-to-be) Match Maven glory.
Criminally funny, Merrily Yours makes a great stocking stuffer for that special someone in your life. Or heck, get it for yourself–because it's not only the eighties that rock(ed)! This is one rad book you won't want to put down until the last page. Best yet, it's short enough to curl into the couch and finish in one sitting–just scoot the kids outside to play with a reminder to shout "car."
The Official Blurb
Before they were grannies . . . Ellie and June were suburban 80s moms, with big hair, flowered casserole dishes, and snazzy jazzercise outfits!
Shady Oaks, December, 1985–Amid tween drama, PTA meetings, Christmas shopping, jazzercise, and an endless to-do list, June is busy getting ready for one of her famous Christmas parties. The last thing she needs is trouble from Mr. Krantz, the crotchety next-door neighbor who has it out for her–and her daughter's cat. But trouble is what he always seems to bring, every time he darkens her doorstep.
But is Mr. Krantz a true crank, or just a lonely fellow in need of some Christmas cheer?
Ellie's worried about her friend June. At the rate she's going, she'll be frazzled and miserable by Christmas. Ellie's willing to pitch in any way she can–even if it means teaming up to take down Mr. Krantz. But June is reluctant to accept her help, and too busy planning the perfect Christmas to find her Christmas spirit.
Can June slow down enough to appreciate the real reason for the season? Or will this go down as Ellie and June's craziest Christmas ever?
More Info
Purchase your copy of Merrily Yours: A Christmas 80s Novella on Amazon.
Follow Jessica Marie Holt on Facebook , Twitter, & Goodreads
Read my reviews of the other books in the Granny Pact Collection.
Reluctantly Yours
Accidentally Yours
Surprisingly Yours
Totally Yours
Please follow and like us: