Lucky In Love: A Book Review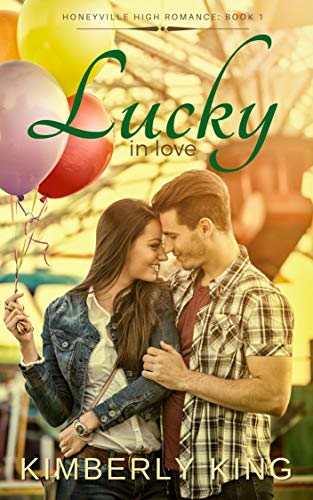 Kat Ellison has every intention of catching the eye of the recently single Hunter Hayes, but with Sam Buxton around, all her plans seem to go awry in Lucky In Love by Kimberly King.
King, author of the Magical Troubles Series and Evan the Horrible, recently released Lucky In Love, a YA romance. And as with her other books, Lucky In Love delivers plenty of humor that will bring smiles to the faces of tweens, teens, and adults alike.
My Thoughts on Lucky In Love
A little story.
King and I frequent a few of the same online writing groups. While writing this book, she asked a question about pool guys. I don't even remember the question, only that it had something to do with pool guys being cute. Why? Because pictures instantly popped into my head…of my dad vacuuming a dirty pool while dressed in his 80s Hammer pants, chlorine-bleached t-shirt, and a floppy bucket hat that shaded his face well beyond his Tom Selleck mustache. (I'm pretty sure Dad had the mustache first.) I couldn't stop laughing at the idea that a pool boy might be cute. Then again, Mom probably disagrees.
Whether or not I would read Lucky In Love was never a question. King's books always entertain me. And her non-existent promise of giggles that would make my husband give me questioning stares? Well…she made good on that too.
Lucky In Love deals with a seventeen-year-old Kat, who always has a cause in mind. Her current cause: make the gorgeous and popular Hunter Hayes like her in order to equalize the various social groups on campus.
As she gets to work, mishaps flourish, and each one is as hilarious as the next. Kat's grandmother, a seemingly eccentric type, makes it all the more fun. But my favorite character is the pool boy…#2.
Clean in every way, this may be a YA sweet romance, but it is most definitely for all ages. I bit my nails, worried, and laughed with the best of them. If you need a Christmas gift for an avid reader, this is a book I 100% recommend.
The Official Blurb
Kat Ellison is sure she's the only person on earth whose grandma still flirts with the pool boy. But she's got bigger problems now that Sam Buxton, Senior Class President, keeps coming around. From the moment she laid eyes on him, she's had nothing but bad luck, but there's no getting rid of him. Gram has decided they're a perfect match and is bound and determined to get the two together.
From her baking mishaps at home to mortifying moments in the halls of Honeyville High, Kat's convinced Sam is a bad penny the way he keeps showing up. But she has a plan: win over recently single Hunter Hayes, convince Gram that he's a better match, and get rid of her bad luck—and Sam—once and for all.
The trouble is her fate is written in the stars. How can she change it when everything keeps bringing her back to the one person she can't stand?
More Info
Purchase your copy of Lucky In Love on Amazon.
Follow Kimberly King Facebook Twitter Goodreads
Read my other reviews of King's books
The Trouble with Fairy Godmothers
The Trouble with Prince Charming
Evan the Horrible
I received a copy of this book for free for the purposes of this review. All opinions are my own.



Please follow and like us: